Lonely Planet's Best in Travel: The Best Trends, Destinations, Journeys & Experiences for the Upcoming Year (Paperback)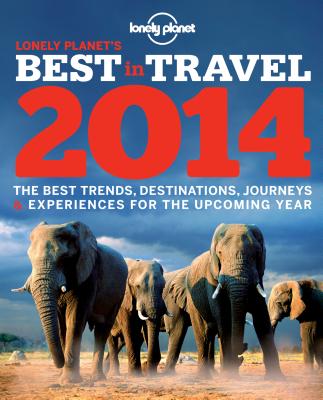 Description
---
"Lonely Planet: The world's leading travel guide publisher"
Lonely Planet knows the world better than anyone else. From the people who have been delivering trustworthy guidebooks to every destination in the world for 40 years, Lonely Planet'sBest in Travel 2014 is your passport to a year of unforgettable experiences. Discover the best places to go and things to do all around the world right now Visit previously secluded destinations before they get crowded, join in this year's global events where they are happening, and explore countries that are more accessible than ever; all with this motivating annual trend-setting travel reference. Dive into a year's worth of travel inspiration and begin planning an exciting 2014 filled with travel and exploration now
Inside Lonely Planet's Best in Travel 2014:
Over 200 pages of lavishly colourful photography
Historical, political, and cultural insights give you a richer understanding of the buzz-worthy destinations and of the contexts that make 2014 the year to visit them
Highlights the world's top 10 countries, regions, and cities to visit in 2014, the best timely travel experiences for the year ahead, and over 35 events mapped out month by month in a 2014 travel planner
The perfect gift for a loved one or yourself
Authors: Written and researched by Lonely Planet.
About Lonely Planet: Started in 1973, Lonely Planet has become the world's leading travel guide publisher with guidebooks to every destination on the planet, as well as an award-winning website, a suite of mobile and digital travel products, and a dedicated traveller community. Lonely Planet's mission is to enable curious travellers to experience the world and to truly get to the heart of the places they find themselves in.
"TripAdvisor Travelers' Choice Awards 2012 and 2013 winner in Favorite Travel Guide category"
"'Lonely Planet guides are, quite simply, like no other.' - New York Times"
"'Lonely Planet. It's on everyone's bookshelves; it's in every traveller's hands. It's on mobile phones. It's on the Internet. It's everywhere, and it's telling entire generations of people how to travel the world.' - Fairfax Media (Australia)