Who Lost Russia?: How the World Entered a New Cold War (Paperback)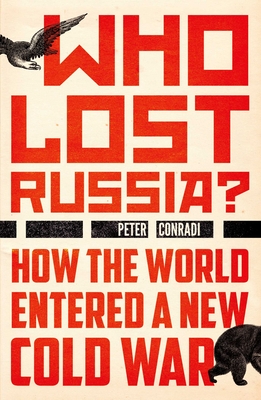 $19.88
Email or call for price
Description
---
How did we get from the end of the Cold War to Trump and Putin?

'A must read for anyone interested in the future of Europe and the world as a whole.' Serhii Plokhy, author of The Last Empire

An essential insight into Russia's relations with Ukraine, the US and beyond

Why did Vladimir Putin launch his catastrophic invasion of Ukraine in February 2022? And how much are failures of Western policy towards Russia since the end of Communism to blame for the bloodiest war on European soil since 1945? These are the questions at the heart of Who Lost Russia?, an updated edition of which Oneworld will be publishing this July. In the original version of this book, critically acclaimed on both sides of the Atlantic when it appeared in 2017, Peter Conradi, Europe Editor of The Sunday Times, analysed the series of mistakes and misunderstandings on both sides since the end of the Soviet Union in 1991. This new edition contains 15,000 words of original material that brings the story bang up to date, examining the events leading to the invasion and setting out what the conflict will mean for the future of Europe and the world.
About the Author
---
Peter Conradi is the foreign editor of The Sunday Times. During his six years as foreign correspondent in Moscow, he witnessed the USSR's collapse first-hand. His previous books include Hitler's Piano Player and The King's Speech, co-authored with Mark Logue, which inspired the Oscar-winning film. He lives in Lambeth, South London.
Praise For…
---
'Engrossing.'
— Mail on Sunday

'Authoritative and readable.'
— Daily Mail

'A timely account of the diplomatic history of what increasingly looks like a new Cold War… Nervous Europeans might like to send Conradi's book to the White House.'
— The Times

'Fast-paced, comprehensive, solidly researched and, most importantly, essential reading for anyone who wants to understand one of the great crises of our times…uncannily up-to-the-minute…this book couldn't be better timed.'
— Owen Matthews, Literary Review

'Conradi wisely examines the forest's contours, avoiding the trees. He writes engagingly and enlivens his smart, balanced analysis with colorful anecdotes.'
— New York Times Book Review

'Essential reading.'
— The Herald

'Manages to tell a complex story…with a much-needed sense of balance. The author's skill in seamlessly linking historical events to present-day international relations makes this book an insightful and rewarding read.'
— Prospect

'Seamlessly written…it is fascinating to read the author's summary of Russia's actions in Syria in the context of recent events.'
— Wall Street Journal

'Elegantly written, informed…provides many valuable insights into our times.'
— Evening Standard

'Skilfully constructed.'
— Sunday Times

'Profoundly important.'
— Country Life

'Peter Conradi is a cool-headed and even-handed guide to the past 25 years of Western-Russian relations...It is refreshing to read so well-written and dispassionate an account.'
— New Statesman

'A fine narrative of postcommunist Russia's relations with the United States and Europe.'
— Library Journal

'Fast-moving and utterly compelling and spans the decades revealingly.'
— Irish Independent

'Balanced and timely…a smooth narrative that provides welcome context for Russia's recent revanchist behavior and insight into prospects for ongoing U.S.-Russian relations.'
— Publishers Weekly, starred review

'To understand what went wrong in Russia over the last few decades and the impact it has had on the world, one can't find a better guide than this well researched and argued book – a must read for anyone interested in the future of Europe and the world as a whole.'
— Serhii Plokhy, author of The Man with the Poison Gun and The Last Empire

'Nuanced yet fast-paced, this is the essential guide to our rocky relationship with a country we ignored at our peril. Russia is back at the top of the news: and this book couldn't be more timely.'
— Peter Pomerantsev, author of Nothing is True and Everything is Possible: Adventures in Modern Russia

'Clear, thought-provoking, disturbing. Anyone who wants to understand the rise of Vladimir Putin and the resurgence of Russian nationalism should read Peter Conradi's impeccably researched and impressive book.'
— Victor Sebestyen, author of 1946: The Making of the Modern World

'The West has always struggled to comprehend the byzantine workings of Russia, not just during the Cold War but even more so in the post-communist era. This important book presents a crucial analysis of the rise of Putin and our continuing inability to read him. Few people are as well placed as Peter Conradi, who witnessed the collapse of Communist Russia 25 years ago first hand as a Moscow correspondent, to present such an important and revealing study as we approach the 100th anniversary of the Russian Revolution. This is a book to which we all need to pay attention.'
— Helen Rappaport, author of Caught in the Revolution: Petrograd 1917

'As NATO and the West come to terms with a Russia which, in the words of Dmitri Trenin, Director of the Moscow Carnegie Centre, believes it has been at war with the West since 2014, the risks of miscalculation and the potential for catastrophe have not been higher since the end of the Cold War. Who Lost Russia? lays out, with startling clarity and precision, the steps that have led us to the present situation. Understanding is the pre-requisite for the development of strategy. This book provides that essential understanding and should be compulsory reading for our political leadership, and the policymakers who support them, together with the general reader.'
— General Sir Richard Shirreff, author of War with Russia

'How the world careened from one cold war into another with a friendly but all too brief pit stop between them is the subject of this quite wonderful book. Bringing to bear his seven years as a Moscow correspondent, and a gift for clear, sparkling prose, Peter Conradi's spirited, well-informed narrative brings to life the ups and downs, colourful characters, and turning points that didn't turn along the way.'
— William Taubman, Pulitzer Prize-winning author of Khrushchev: The Man and his Era

'Peter Conradi takes a calm, considered look at developments in East–West relations that threaten to divide the world. In an era of inflamed partisan debate, he provides the historical context vital for a rational assessment of where we stand and where we are headed.'
— Martin Sixsmith, author of Russia: A 1,000-Year Chronicle of the Wild East

'A systematic account of Russia's emergence from the wreckage of the Soviet Union with a renewed sense of authoritarian mission… A cold-eyed examination of recent Russian history that seems to show that there was never a solid plan to integrate Russia into the West.'
— Kirkus