Fermented Foods: The History and Science of a Microbiological Wonder (Hardcover)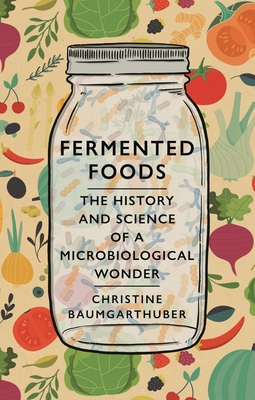 Description
---
Fermented Foods serves up the history and science behind some of the world's most enduring food and drink. It begins with wine, beer, and other heady brews before going on to explore the fascinating and often whimsical histories of fermented breads, dairy, vegetables, and meat, and to speculate on fermented fare's possible future. Along the way, we learn about Roquefort cheese's fabled origins, the scientific drive to brew better beer, the then-controversial biological theory that saved French wine, and much more. Christine Baumgarthuber also makes several detours into lesser known ferments—African beers, the formidable cured meats of the Subarctic latitudes, and the piquant, sometimes deadly ferments of Southeast Asia. Anyone in search of an accessible, fun, yet comprehensive survey of the world's fermented foods need look no further than this timely, necessary work.
About the Author
---
Christine Baumgarthuber is creator of The Austerity Kitchen, a culinary history blog hosted by New Inquiry, where she also serves as a contributing editor. She lives in Providence, Rhode Island.
Praise For…
---
"Baumgarthuber's new book adds to the considerable output of the past 20 years on fermented food and drinks. It's a field admitting of many perspectives: regional, scientific, how-to and cultural, social, and even intellectual history. . . . In sum, the book gathers and synthesizes, with useful figures, a tremendous amount of historical, scientific, and technical information on how gangs of microbiota produce provender for our daily delectation. The riot of resultant flavors and their associated traditions are fascinating, and the book is a welcome addition to the fermented-food canon."
— Digestible Bits and Bites

"Sourdough starter kits certainly had their moment during the pandemic, but many people hopping on the trend may have no idea of the history of fermentation... Christine Baumgarthuber, a Pawtucket resident and culinary historian, has published [this book] for anyone curious about the science and history behind fermenting food."
— Valley Breeze

"Main streets and farmers' markets show off sourdough bakers, craft brewers, small winemakers, cheesewrights, soy sauce makers, and more. Such artisans reclaim fermented foods, which modern industry appropriated, compromised, and made mysterious. Now Baumgarthuber fascinatingly renews our acquaintance with the long list of ancient microbiological wonders achievable domestically."
— Michael Symons, author of "Meals Matter: A Radical Economics Through Gastronomy"

"How did the very foods that nourished and sustained humans for thousands of generations become increasingly feared and almost forgotten? Baumgarthuber shines a light on the nascent scientific understanding of microbiology and germ theory as it collided with the underpinnings of the early industrialization of our food system."
— Kirsten K. Shockey, coauthor of "Fermented Vegetables" and "Miso, Tempeh, Natto and Other Tasty Ferments"