World's Stupidest Tweets (Paperback)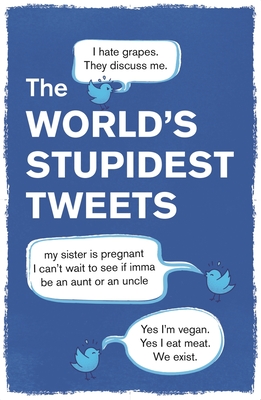 $9.99
Email or call for price
Description
---
Sometimes you press the button without thinking ... you know it's a mistake but there's no way back, you've posted something really stupid. It doesn't make sense ... it's littered with spelling mistakes ... you've missed the point ... Oh, God! I'd do ANYTHING to take that back!

Other times, you read tweets that are just plain dumb!

In this laugh-out-loud collection, you'll find a selection of the really stupid things people post:

· 'I hate grapes. They discuss me.'
· 'I want my first daughter to be a girl.'
· 'Hope I done well in the English exam.'

With hundreds of examples of the very best (worst) tweeted howlers that range from the silly to the bewildering, The World's Stupidest Tweets is guaranteed to keep you chuckling!
About the Author
---
Tim Collins was originally from Manchester, but now lives near Oxford. He is the author of over thirty books including Wimpy Vampire, Cosmic Colin and Dorkius Maximus. His books have been translated into over thirty languages and he has won awards in the UK and Germany, including the Manchester Fiction City award (2011 Winner) and the Lincolnshire Young People's Book Award (2012 Winner).