How to Train your Dog in 7 Days: A Step-by-Step Guide To Teach your Dog to: Behave, Listen, Understand, Interact and Have the Dog you Always Wanted to (Hardcover)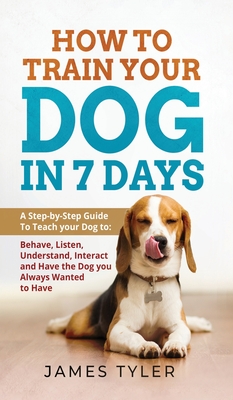 $28.00
Email or call for price
Description
---
Do you want to train your dog, exceptionally, in a short time and with a step-by-step guide?
You've always wondered how to train your dog without wasting time, doing the wrong things and
without having to go crazy?
One of the many problems that can be encountered is precisely that of being able to take a
lot of time and sacrifice without getting concrete results.
Find out what all dogs should learn from the first steps together.
This guide will allow you in just a few days not to miss the basics to get a good result and explains
step by step the things to do and those not to do. All this in just 7 days
Inside you will learn
The basics to know to be able to train your dog from scratch all explained step by step to facilitate the understanding of the text.
Learn the language to understand their needs and like you can interpret them in the best possible way.
Teach the dog the behaviors to have when he is in the house and when he is out, without making unnecessary mistakes very common for those who start without experience.
Make your dog learn your words and signs so that he understands your language in the best possible way.
Teach him how to behave in the presence of other dogs, explained in detail.
Along with all this, a step-by-step step guide on steps to train your dog in the best possible way in just 7 days, explained day by day, goal by goal.
Pre-Purchase: Will this book add value for me?
These are just a few of the many benefits described. In this book you can really learn the content very easily and within everyone's reach without falling into trivial but very common mistakes.
Even if it seems impossible, you think you can't make it, you think it's too complicated, you ask yourself a thousand questions for anything, this book will allow you to solve all your doubts and in a short time
Need to understand how your dog reacts to certain situations and easily understand all its languages
How can I know out the tricks and tips for socializing your dog
How can I learn to walk with my dog in a simple and regular way without loss of control
How can I make sure that my dog understands what I say and learns what all dogs should learn
All this and more...
You can take away all your questions and find the effective solution by trying to read this book
Would you like to know more...?