Copycat Restaurant Favorites: A Guide and Compilation of the Most-Loved, Healthy, and Easy Favorite Copycat Restaurant Recipes that you can Cook in (Paperback)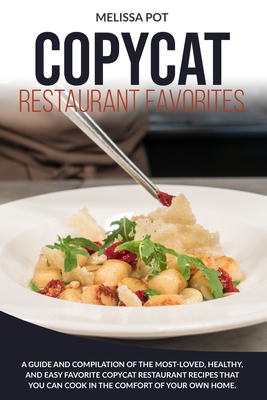 $28.00
Email or call for price
Description
---
Are you looking for a complete guide to cook restaurant dishes at home? Then keep reading...
Have you ever wanted meals and dishes to be cooked at home in the restaurant style? I'm expecting a lot of people. It's not that you don't want to go to restaurants; it's just that you need to eat at home on some occasions, and you want your own kitchen to be able to prepare your favorite restaurant-style dishes. This is especially true, of course, if you have a young family and you simply cannot make it to a restaurant as often as you want, but the same situation can also arise if your household budget is limited and does not extend to too many nights out, or if there is simply no outlet of your favorite restaurant chain within a convenient distance from home.
We love going to restaurants for many of us. Of course, the atmosphere of a nice restaurant and the social atmosphere of eating with friends are important parts of the experience, but if we're honest, we can't really deny that the food we get is a major contributor to our pleasure.
The secret, of course, is to know the recipe for that dish. Restaurants tend to keep the exact details of their recipes a secret, of course, and I'm not going to pretend that there's a way around that, but what you can do is get hold of a "copycat recipe book," which contains recipes designed to taste similar to your favorite restaurant dishes. While the copycat recipes may not be exact duplicates, you may be shocked at how close they are to the originals-and it is certainly possible that you might even end up preferring a dish's home-made version
Copycat recipes, often referred to as top secret recipes, are everywhere revolutionizing home cooking.
I think it is true that most of us have favorite restaurants and favorite dishes in those restaurants that we love to eat. Whether it's fried chicken, burgers, ribs, steak, seafood, a dessert, or even just a salad with a particularly delicious dressing, we all know that even thinking about our favorite dish, prepared in the right way, can really make water for our mouths.
However, it may not be possible to eat out at a restaurant as often as you want, regardless of how much you might enjoy it. Of course, money can be a problem-can you afford to take your family to a restaurant as often as you want? And, it's worth remembering that even if you could afford to go to a restaurant every night, you probably wouldn't-eating together at home is often more realistic and comfortable of considering the demands of family life (school nights), it can also be a great opportunity to bring your family closer together. If you're interested in these Copycat recipes, then this book is for you.
This book covers the following topics:
Breakfast
Appetizers
Lunch (chicken)
Lunch (fish)
Dinner
Other restaurant favorites I
Other restaurant favorites II
Soups and side dishes
Souces and dressing
Desserts
...And so much more
Read on and try making your favorite restaurant recipes at the comfort of your own home
Ready to get started? Click "Buy Now"