The Instant Pot Air Fryer Lid Cookbook for Beginners: 400 Delicious Instant Pot Air Fryer Lid Recipes for Fast & Healthy Meals (Hardcover)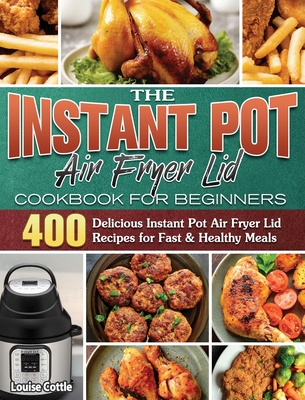 $36.94

Not in stock. Usually arrives in 2-5 Days
(This book cannot be returned.)
Description
---
The Instant Pot Air Fryer Lid Cookbook for Beginners:400 Delicious Instant Pot Air Fryer Lid Recipes for Fast & Healthy Meals
Do you want to live a live full of energy, yet enjoy tasty and quickly prepared food?
Do you want to make an effortless progress in your kitchen regardless of the occasion?
Do you want to save time cooking healthy meals on any budget?
The Instant Pot Air Fryer Lid cookbook for Beginners you will find:
Simple and quick solutions as to how to use your Instant Pot Air Fryer Lid effectively.
No need to go to huge supermarkets for finding ingredients; all can be get in the nearest grocery.
There is the nutritional info for every recipe. It was created for that one who follows a diet or controls the consumption of food per day.
This collection of delicious recipes that follow the trendy use of the Instant Pot Air Fryer Lid is the solution that everyone needs. It caters to all kinds of eating lifestyles featuring recipes that aren't only lip-smacking but eases up the stress of cooking to the best possible.
Don't wait for another second to get this amazing cookbook now.