Backyard Chickens for Beginners: A practical handbook to raising chickens in a happy Backyard Flock, Choosing the Right Breed, Feeding and health Care (Hardcover)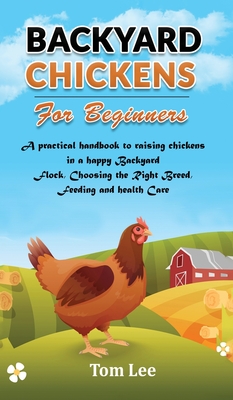 $26.99
Email or call for price
Description
---
Learn How to Raise
Healthy Chickens
at
Your Backyard
When starting a backyard chicken coop, one of the first decisions you'll have to make is which breed of chicken you will raise. Each breed has specific characteristics and can be used for different purposes. In general, though, chicken breeds break down into three groups: egg layers, meat chickens, and dual-purpose chickens.
Egg layers produce both a nice quantity and quality of egg. Egg color can also be a factor here. Despite what you have seen in the market, not all chicken eggs are white or brown Some chickens lay blue, green or pink eggs which may be less desirable.
The Leghorn chicken is the best egg layer that is commonly used by beginners. A mature hen can lay up to 280 eggs in one year. The eggs are large, and white to off-white in color. Leghorns tend to be smaller than other backyard chickens, and have a good nature suitable for a backyard flock. Many commercial farms use the Leghorn as their egg layer of choice.
WHAT YOU ARE GOING TO LEARN IN THIS BOOK
What Are the Best Backyard Chicken Breeds?
Should you Raise Meat Chickens?
Introducing New Chickens to Your Existing Flock
Hidden Costs of Raising Chickens
Problems You Should Expect with Raising Backyard Chickens
Meat chickens, sometimes called fryers or broilers, are raised for the meat they can provide. If meat is what you want from your flock, then size and weight matter. Some good meat chickens, like the New Hampshire Red, can grow up to 9 pounds. You'll also want to make sure the skin color and shape of the chicken breed is suitable for cooking. In general, a nice rounded chicken with yellow skin (under the feathers) is preferred.
Most backyard hobbyists want the best of both worlds. This is where the third group, dual-purpose chickens, comes in. Dual-purpose chickens are fair to good egg layers, but can also be raised to a decent size for cooking later in life.