Cricut: 3 Books in 1: Cricut for Beginners, Design Space & Project Ideas. Includes 25 Tips and Tricks and All You Need to Know (Paperback)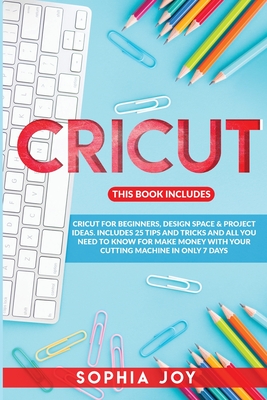 $22.99
Email or call for price
Description
---
Design your dream projects with this wonderful beginner's Cricut guide
Are you looking for the best way to master Cricut and create all of the wonderful home projects you've ever dreamed of? Do you want a beginner's guide to help you go from novice to seasoned Cricut pro? Then this is the book for you
Whether you want to impress your friends and family with your creativity, unleash your inner creativity, or decorate your home with a personal flair, Cricut is a revolutionary device which has the potential to help you with all of this and more
Now, this practical beginner's guide reveals how you can master the world of Cricut. With step-by-step instructions and simple advice, this book covers how to set up and use your Cricut machine, all the must-have accessories, and even a comprehensive introduction to the Cricut Design Space app.
Here's just a little of what you'll find inside:
- Exploring The Cricut Machine and The Different Options on The Market
- How You Can Set Up a Brand New Cricut Machine In an Hour or Less
- An Introduction To Different Materials, Crafts, and Projects
- Essential Accessories For Your Cricut Machine
- A Detailed Introduction To The Cricut Design Space App
- 25 Tips For Becoming a Cricut Pro
- And a Ton of Lovely Project Ideas To Try
So if you want to awaken your imagination and channel your creativity with the help of delightful home crafts, then you've come to the right place With simple instructions and a ton of ideas to get you started, now you can make all of your DIY dreams come true with the amazing power of Cricut.
Scroll up and buy now to get started with Cricut today