Baking Cookbook for Teenagers: 100 Delicious and Irresistible Recipes. The Essential Guide to Baking for Teenagers. Step by Step Cookbook with Pictur (Paperback)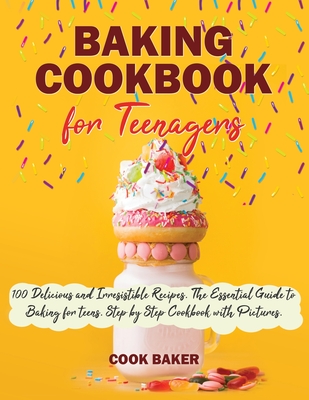 $31.85
Email or call for price
Description
---
Baking Cookbook for Teens: Everything You Need to Know to Start Baking Today
Surprise and Delight Your Client with This Fabulous Book Your Customers Will Never Stop to Read this Awesome Book
Are you an ambitious teen chef who wants to master the baking basics?
Are you looking for a gift for an aspiring cook in your family?
THEN THIS BAKING COOKBOOK FILLED WITH SIMPLE AND DELICIOUS RECIPES MIGHT BE JUST WHAT YOU NEED
When it comes to cooking, practice makes perfect. We all have to start somewhere Baking usually brings up an image of a freshly baked bread or cookies, but did you know you can also make savory stuff in the oven?
In fact, baking is one of the healthiest (and tastiest ) ways to cook your food.
This baking cookbook for teens will take you through the baking principles step by step. It has a bunch of super easy to follow recipes, complete with pictures
You will learn how to make all kinds of desserts, savory dinners, snacks, and even pizza. Yes, you read that right, homemade pizza. The best kind
What you get in this book:
Baking process explained so you can start cooking today
A bunch of simple and healthy dessert recipes
Dinner recipes that will have your family and friends impressed
Delicious recipes with simple instructions and pictures
Pizza, dinner rolls and bread recipes - with and without carbs
AND SO MUCH MORE
It's never too early to start baking. It might seem complicated at first, but that's why you have this baking cookbook for teenagers to help you out These simple and tasty recipes with straightforward instructions will improve your diet, impress your friends and inspire you to get even better at cooking as you get older
Get this book today and bring your customers as far as their dreams can take them