Air Fryer Amazing Recipes: The Perfect Guide to Learn How to Prepare Amazing Recipes with Your Air Fryer (Paperback)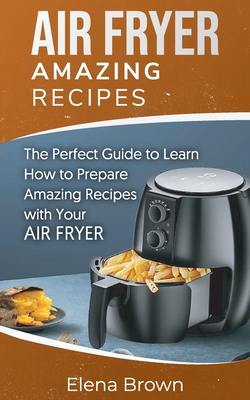 $24.95

Not in stock. Usually arrives in 2-5 Days
Description
---
Description
Have you ever come across a kitchen appliance that allows you to save over 80% of your cooking oil?
Have you ever pictured a cookbook for easy, quick, and sumptuous recipe ideas?
This book is a collection of fantastic recipes and simple instructions. It is easy to use and has easy to follow instructions with lots of notes on cooking procedures and entertaining. This lovely cookbook is perfect for anyone─home cooks and any individual─who simply loves to eat and drink or any individual who wants to experience a new phase in terms of cooking rather than a complex and more strenuous nature of conventional baking. It is filled with pages of inspiration on how to make the most of your ingredients to prepare superfoods.
In this cookbook, you will get:
- Breakfasts Recipes
Vegetable Recipes
Side Recipes
Poultry Recipes
Beef, pork and lamb Recipes
Fish and seafood Recipes
Snacks and appetizers Recipes
Desserts Recipes
What are you waiting for? Get a copy of the "Air Fryer Amazing Recipes Cookbook" immediately and start preparing the most sumptuous meals in the comfort of your kitchen without wasting time.