Keto Bread Machine Cookbook: A Cookbook that will Teach you How to Prepare Low-Carb Recipes, Using the Bread Machine to Lose Weight and Burn Fat (Paperback)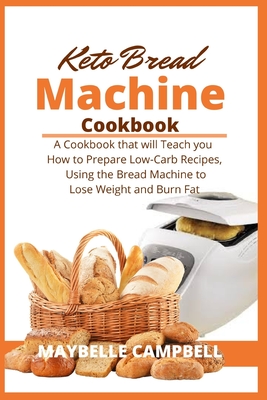 Email or call for price
Special Order. May not be available. Call the store for details.
Description
---
(Color Edition)
★★★
Do you follow a ketogenic diet but still miss bread?
If you answered yes, then this cookbook is what you need.
Your clients will never stop thanking you for making their Ketogenic diet more complete.
Making bread should be easy... and now it is.
There is nothing better than the wonderful, mouth-watering aroma of freshly baked bread filling the kitchen.
In this guide you will find out how to use the versatile Bread Machine to bake and enjoy the soft goodness of a healthy loaf of bread while staying in line with the keto lifestyle.
With more than 50 recipes that use ingredients that are easy to find and require minimal work, this Bread Machine Cookbook will prepare you for successful baking.
Tasty, easy-to-make, easy-to-follow, delicious recipes that will help curb your carbohydrate cravings.
No hard to find flours, no gluten added, no checks every 10 minutes to see how the bread leavens. This cookbook does it all for you. It's as simple as that.
Finally, a weekly ketogenic diet menu (with recipes) that shows you how to use your bread machine for its intended purpose: comfort
What are you waiting for?
Take advantage of this launch offer
Buy it Now and let your customers get addicted to this amazing book