Wood Pellet Smoker and Grill Cookbook: 201 Delicious Recipes to Enjoy With your Family and Friends. Let's Discover all the Techiques and Secrets to Pr (Hardcover)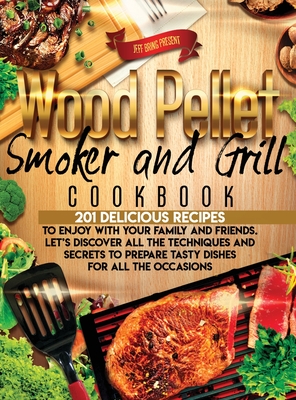 $35.49
Email or call for price
Description
---
The great outdoors is your playground so why shouldn't that be where you smoke your meat? Impress your friends and guests with smoked meat dishes that are a flavor bomb of finger-licking, smoky deliciousness with moist, fall-off-the-bone tenderness
You won't even have to be stuck by the grill Use the recipes in the Wood Pellet Smoker and Grill Cookbook to set up your ingredients in the wood pellet smoker and let the machine do the rest while you have a beer and hang out with your buddies.
The Wood Pellet Smoker and Grill Cookbook is the only complete guide you will need:
- Your complete guide for everything you need to know: why wood pellet smoking, type of pellets and diversity, cut to use - all the tricks and secrets to becoming a smoke and grill extraordinaire.
- Be a master of the wood pellet smoker and the envy of your mates: know the difference between smoking and grilling, automatic vs manual mode, main functions including digital features, the importance of maceration, glazing, and spices to use according to types of meat and desired flavors, and more.
- Host successful dinner parties that become the talk of the town: with mouth-watering recipes that come with easy instructions and detailed measurements.
- Tips and tricks to simplify smoking meats so it becomes more than just cooking, but a fun and adventurous outdoor hobby for you.
- Clear and easy-to-understand recipe including preparation time, maceration time, cooking and smoking time, serving portion, ingredients listed in order of use, nutritional information such as calories, protein, fats, carbohydrates, sugars, fibers, the origin of the recipe, and images - you won't have any questions about what to do.
- You can smoke and grill anything and everything under the sun Over 200 recipes covering a variety of meats:
- Poultry in all its parts, whole and not
- Red meats including beef and buffalo
- Hamburger: from dough to cooking and smoking
- Game
- Fish and seafood including shellfish
- Pork and wild boar meat
- Vegetables and fruits
- International recipes
- Breakfast recipes
- Italian recipes and with cheese and Parmesan
Enjoy the outdoors and gather 'round the mates in the 'hood
Click on "Buy Now" and be the smoke and grill extraordinaire everyone will be talking about