Easy Cannabis Cookbook: Quick Marijuana Recipes for Sweet and Savory Edibles (Paperback)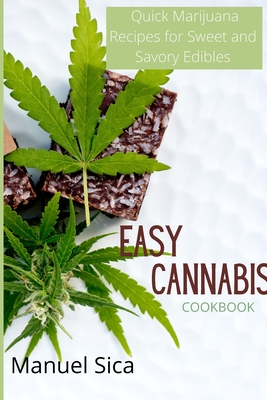 $26.97
Email or call for price.
Description
---
THIS IS GOING TO BE YOUR ULTIMATE CANNABIS COOKING BIBLE
Have you ever wondered how you could make your medical marihuana cooking way more tasty and enjoyable?
Would you like to have a complete cookbook that would lead you through every part of the day, so you don't have to think and search every time you want a healthy and delicious meal?
Your Customer Will Never Stop to Use This Awesome CookBook
I think for most new cannabis users, it seems that cooking with weed is as easy as it sounds - just add a little, mix it up, and here you go Not exactly...
There are quite a few things you have to know before cooking certain meals with cannabis, not just for taste reasons - keep in mind that you have to maintain your cannabis as valuable as possible and know which form you should use and when.
For this exact reason, I've created a complete cookbook to help you add more pleasure and clarity to your every day cooking and eating.
Here is just a fraction of what's inside:
- A lot of delicious and healthy cannabis meals for you everyday cooking
- Complete breakfast, lunch, and dinners recipes with very clear instructions next to each one
- Everything you need to know about cannabis extractions and decarb
- Candy, Soup, Herb and Salad recipes to keep yourself full when feeling hungry
- Much much more...
And even if you've never cooked with cannabis before, don't worry, this book will take you by the hand and lead through every single step
Buy it NOW and let your customers get addicted to this amazing CookBook