Mediterranean Diet Slow Cooker Cookbook: A Detailed Guide for Preparing Meltingly Tender, Healthy Comfort Food to Soothe Your Soul and Satisfy Your Cr (Paperback)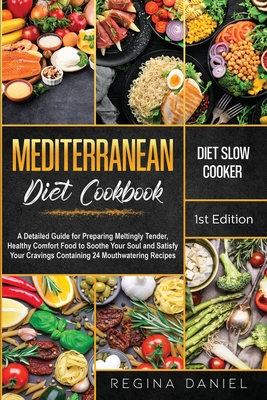 $34.99

Backordered
(This book cannot be returned.)
Description
---
55% OFF for Bookstores Buy at a retail price of $34.99 Instead of $42.99
All great things come with patience and perseverance, for this, you only need one
This cookbook is a healthy food trip around the world for your customers.
In this slow cooker cookbook, you will experience a diverse range of flavors coming from all around the world having Italian slow-cooked foods ranging from minestrone, a thick vegetable soup, to porchetta, a juicy stuffed rolled pork shoulder cooked for hours until it falls apart. While from Greece and Turkey you can find things like a lamb flavored with lemon and rosemary to eggplant dishes. Syria, Lebanon, Egypt, Tunisia, and the entire North African Mediterranean coast are also representing aromatic and flavorful recipes of their veteran cuisine.
Utilize it for breakfast, lunch, and dinner to prepare mouthwatering and tender meals throughout the day using this detailed slow cooker cookbook walking you through everything, from what you need to how you can start. All while keeping your health in check.
These recipes being a part of your Mediterranean diet contain nutrition from all food groups. Making it extremely rich in fiber, protein, vitamins, and minerals which are important for staying active, increased agility, heart health, and a longer, more peaceful life.
The best thing about slow cooking recipes is that you can set the food in your slow cooker, go about your business, run your errands and forget about it, only to come home to a perfectly cooked dinner without worrying about the food being overcooked or burned.
This book consists of 24 meltingly tender recipes to be prepared in an electronic slow cooker for preparing comfort food which can have an extremely satisfying and soothing effect on your entire soul.
Here are 3 reasons why this Mediterranean diet slow cooker recipe book is one to go for:
● Mediterranean Recipes from all over the world
● Cook something irresistibly special for the guest
● Convenient Clear and Simple Instructions
Even if you only like a specific kind of taste, you can easily customize recipes in this cookbook.
Place your order, and start selling books in superior numbers