The Ultimate Dog Treats Cookbook 2021: Discover a New World of Flavors and Easy Dishes to Prepare at Home, with 140 Quick and Delicious Recipes for Yo (Paperback)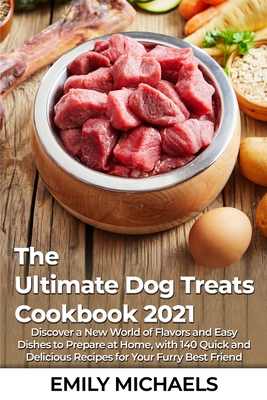 $19.95
Email or call for price
Description
---
Make your own Homemade Dog Treats with 140 delicious recipes
Pet lifestyle expert Emily Michaels puts the fun back into dog treats-with easy, everyday recipes for go-to pet treats you'll actually be bothered to make (and find yourself using over and over again).
Pet food labeling regulations are less stringent compared to humans'. While commercial dog food offers convenience, they might not be the best choice for your beloved fur baby. With all the long list of mysterious ingredients in canned dog food, how can you make sure your pet is safe? There's absolutely no way to tell.
So, why put your best friend at risk?
Well, you no longer have to. Making your dog food at home gives you control over your dog's nourishment. And if that's not great enough, you also get complete control over your budget
In this amazing book you will find:
- Why Homemade Pet Food is so beneficial
- What Precautions to Take Making Pet Food for First Time
- Natural Pet Food Making Techniques
- 140 Delicious recipes for your dog
- Canine Cookies
- Doggie Biscuits
- Pupcakes
- Special Treats for Hypoallergenic Dogs
- Special Treats for Wheat Intolerant Dogs
- ... And much much more
Making your own dog treats gives you more control. Whether it's over your spending, or what you feed your pups, you win either way
So, what are you waiting for? Show your Love, and Spoil Your Dog Today
Scroll up, buy it NOW and let your customers get addicted to this amazing book