Breakfast Air Fryer Oven Cookbook Instant Vortex: Delicious Air Fryer Oven Breakfast Recipes For Greedy People (Hardcover)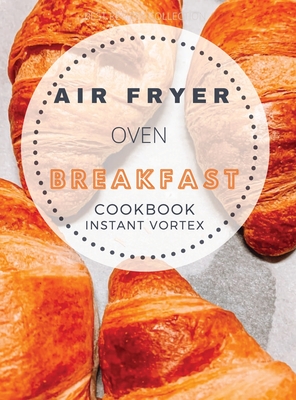 $33.95

Not in stock. Usually arrives in 2-5 Days
Description
---
DO YOU NEED NEW IDEAS FOR YOUR BREAKFAST? YOU HAVE YOUR AIR FRYER OVEN BUT DON'T KNOW WHAT TO COOK?
Best Recipes Collection... Congrats You are here because you've found out that you don't need to count calories and sacrifice your favorite food to
stay in shape, you know that your life can be easier in the kitchen even if you have no clue how to cook, you know that the air fryer oven is the answer to your prayers. Now you need only one thing...a good selection of tasty, quick, and easy recipes for any occasion to try alone, with friends or with family...free from guilt.
************************************************************BEST RECIPES COLLECTION**************************************************************************
Air fryers are all the rage right now, but they can be a little confusing.The Instant Vortex Air Fryer Oven is an air fryer that does it all - from frying to baking to roasting. It's easy and intuitive to use, so you don't have to worry about complicated settings or buttons. Plus, it has a timer so you know when your food will be done cooking without having to keep checking on it You deserve delicious food that tastes great with minimal effort. With recipes for everything from appetizers and main dishes like chicken wings and shrimp tempura rolls, this cookbook will make your life easier in the kitchen
Catherine is beloved by her family and friends for transforming their favorite, comforting foods into healthy dishes with tons of taste.
Now she brings her passion to the game-changing appliance. It has high-powered, super-hot air like a convection oven. That means food won't be fried but it will still taste good.
Air fryers crisp up your favorite "fried" dishes.
In The Instant Vortex Air Fryer Oven Cookbook, Catherine shares a bunch of the best recipes that work in the Instant Vortex, including basket models and countertop ovens with air fryer settings.
You'll of course find crave-worthy recipes for traditionally fried foods, but Julia also shows you how versatile the appliance can be.
Perfectly roasted meats and vegetables all executed beautifully in the compact air fryer.
This collection of cookbooks has perfect recipes for people who have a sweet tooth. There are also low-calorie desserts in the book.