The New Homemade Dog Treat Cookbook: Simple and Delicious Recipes That Your Dog Will Love (Hardcover)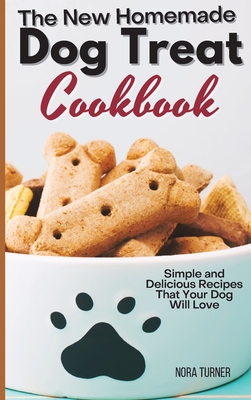 $36.95

Not in stock. Usually arrives in 2-5 Days
Description
---
★ 55% Discount for Bookstores Now at $36.95 instead of 47.95 ★
Have you ever looked at the ingredients list on the back of a bag of dog cookies?
Your Customers Will Never Stop to Use This Awesome Cookbook.
With homemade dog treats dog owners have more control and options about what to feed their pets and what is actually going into their dog's snacks.
Homemade baking is a cheap choice to provide your pet with a small snack. It always saves money to buy large amounts of materials or use food commonly found in your kitchen.
In this cookbook, you can find incredible homemade treats that can and should be prepared chemical-free.
You will find 50+ recipes:
Healthy and tasty ideas for all meals meals
Homemade dog cookies and biscuits
Delicious homemade bones
Veggie chews, crunchies, cakes, and more
All recipes are simple and only need some cheap ingredients
Each recipe includes easy cooking instructions, presents any suggestions and variations
Giving your dog fat-free or reduced-fat snacks will not only help your dog have a healthier heart, but will also help decrease the chances of him becoming obese later in his life.
And these recipes are made with ingredients that contain less fat than store-bought snacks, very easy to make, even if you are a complete beginner.
Buy it NOW and let your customers get addicted to this amazing book