Thai Recipe Book: The Complete Guide to Cooking Easy, Modern Food. Thai Recipes to Enjoy in the Comfort of Your own Home, Including Begi (Hardcover)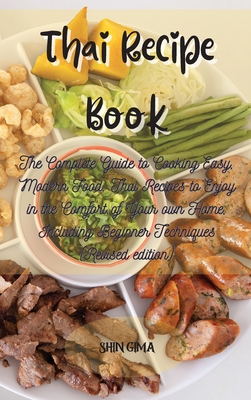 $33.95
Email or call for price
Description
---
Do you love the unique flavors of Thai cuisine and want to learn about various Thai recipes?
Your Customers Never Stop to Use this Awesome Cookbook
Thai cuisine forms an integral part of world cuisine. The unique blend of salty and sour, hot and sweet, makes the foods completely different from the cuisines of their neighboring countries. The ingredients used in Thai cuisine are similar to various other cuisines, but the flavors are still quite different. If you want to gather knowledge about Thai cuisine and various recipes, you can take help from the Thai Cuisine. In this book, you will find basic knowledge about Thai cuisine along with 100+ recipes that can be made easily at your home. You will learn how to make fresh curries and tasty salads along with various other recipes in this book. Thai curries are very famous all over the world. I have included various types of curries, both vegetarian and non-vegetarian, that can provide you with the true essence of Thailand.
If you adore the spicy and exotic taste of Thai cuisine, then you are going to love the recipes that have been included in this book. All the recipes are easy-to-make that can be made with a little bit of effort from your side. When you try to cook something from different countries, you can develop a sense of taste. Not only that, but you can also gather some knowledge about the culture of any specific country. The ingredients you will need for making Thai recipes can be gathered from your local stores, or you can order them online. The recipes have been specifically designed for home cooking. All that you need are the right ingredients along with some basic tools such as the steel wok. Thai cuisine is regarded as one of the most vibrant cuisines because of its use of colorful veggies and ingredients.
Here is a summarized format of all the main elements which you can find in this book:
-A basic introduction to Thai cuisine
-Noodles and rice recipes that can be made at your home kitchen
-Various meat and poultry recipes
-Tasty and vibrant seafood recipes that can be made in no time at all
-Exciting vegetable recipe option for the vegetarians
Preparing Thai recipes at home is not at all costly, as you will need the most fundamental ingredients that are available in any home kitchen. Some of the most common Thai cuisine ingredients that you will need are cilantro, coconut milk, soy sauce, galangal, fish sauce, lemongrass, shallots, and many others. All the recipes in this book are easy-to-make and healthy. With this book's help, you can enjoy the tasty journey to the tropical heart of the continent of Asia.
Buy it NOW and let your customers get addicted to this amazing book