German Recipes Cookbook for Beginners: The Most Wanted Flavourful And Mouth-Watering German Recipes. Improve Your Cooking Skills And Enjoy Amazing Foo (Hardcover)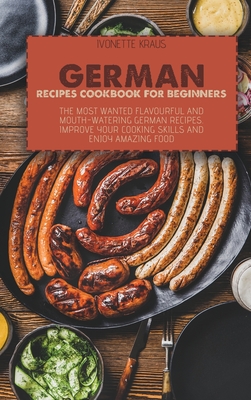 $31.97
Email or call for price.
Description
---
Do you want to try Germany recipes?
Your Customers Will Never Stop To Use This Amazing Cookbook
There is no other cuisine that is as renowned as German cuisine. German food is comprised of some of the most unique and delicious ingredients to make wholesome meals the entire family will rave about. The problem is most German recipes are passed down through the generations, making most recipes hard to come by for those who are not German.
But luckily for you, you will find plenty of authentic German recipes within this GERMAN RECIPES COOKBOOK FOR BEGINNERS. Most of the recipes found in this book have been shared by various German families to help those who have always wanted to learn how to make delicious German recipes from scratch. By the end of this book, you will learn how to make the most authentic German meals you will ever find.
With this GERMAN RECIPES COOKBOOK FOR BEGINNERS, you can create a complete German menu of your own, or you can try all the special German recipes on different occasions as well. In this cookbook, you'll discover popular German meals and ones that you might not have heard of. From a variety of cakes to the luscious range of pancakes, warming soups, German desserts, drinks, and German salads, etc., you can find them all. What's more, all these recipes are created in such a simple way that those who aren't familiar with the German culture, food, and language can still try and cook them at home without facing much difficulty.
This book covers:
- A Different Sauerbraten
- Aepfelkratzet (Apple Scramble)
- Alkovendressing
- Almond Crescent Cookies
- Altdeutsche Brotchen (Quickbread)
- Anise Seed Cookies
- Apfelkraut (German Homemade Apple Syrup)
- Beef Rolls
- Beef Soup With Liver Balls
- Beef Strips And Carrots
- Berghoff Ragout (Ragout A La Berghof)
- Berliner Ballen (Berlin Bales)
- Bienenstich
- Biersuppe (Beer Soup)
- Birnensuppe (Pear Soup)
And much more
Buy it NOW and let your customers get addicted to this amazing book