Delicious German Recipes: The Complete Cookbook With Quick and Easy Traditional Dutch Recipes, From Beginners To Advanced (Hardcover)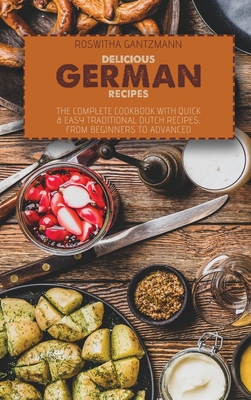 $31.97
Email or call for price.
Description
---
Do you want to make German recipes at home?
Your Customers Will Never Stop To Use This Amazing Cookbook
By the end of this book you will find plenty of authentic German dishes that you can make within the comfort of your own home.
Begin making all of these delicious German recipes for yourself. Once you have done that it will be time for you to try making your own German inspired meals from scratch.
German food isn't haute cuisine. It's good, delicious food passed down generation to generation. And keep some beer handy. It's an important part of German dining.
The DELICIOUS GERMAN RECIPES has all of Germany's favorite dishes. Dumplings and cabbage are a huge part of German cooking, and there are so many ways to prepare them. You'll also love the tangy/sweet flavor that is specifically German in nature.
Most dishes have a savory gravy that is perfect for the beloved dumplings or spaetzle. You'll find no better gravy than the one with the sauerbraten recipe.
Sweet desserts are beloved by Germans, as in the luscious Black Forest cake. This Traditional German Cookbook has a remarkably easy recipe for this wonderful dessert. But there are also spice cakes and cookies. You'll love the Pfeffernusse cookies in this book, with its infusion of peppery spiciness.
This book covers:
- Biskuitstreifle
- Bitter Ballen
- Black Bread
- Blitz Kuchen
- Blueberry Kuchen
- Bobbie's Original German Stollen
- Bodebiremus - Kartoffelmus (Potato Mush)
- Crisp German Meatballs
- Curd Cheese (German Quark, Austrian Topfen)
- Czech Kolachke
- Daetscher
- Dampfnudle (Yeast Dumplings)
- Damson Cheese (Zwetschgenmus)
- Der Gefuellte Schweinebauch (Stuffed Pork Belly)
- Deutsches Beefsteak (German Beefsteaks)
And much more
Buy it NOW and let your customers get addicted to this amazing book