The Dutch Cookbook for Beginners: Start Cooking The Most Enjoyable And Traditional German Recipes And Save Money In A Few Steps (Paperback)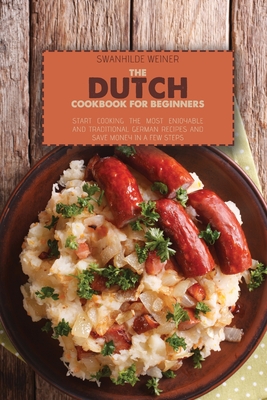 $21.97
Email or call for price.
Description
---
Do you want to understand the concept of Germany cooking?
Your Customers Will Never Stop To Use This Amazing Cookbook
What does German cuisine remind you of? Does it trigger delicious peach kuchen and, or does it conjure the Jaeger Schnitzel? Well, the cuisine has tons of other exciting and delicious meals to offer you. It offers a mix of regional and cultural influence, which makes German cuisine not only special but also quite unique. German food attracts many because of the amazing combination of vegetables, meats, and fruits.
This book is simply a German cookbook. When it comes to German meals, they're made using basic spices, more fermented food and a lot of fruits and vegetables. Most meals are loaded with a number of ingredients. The cuisine focuses on the use of all type of meat, poultry, seafood, vegetables and other agricultural produce. Some fruits and veggies are widely grown in Germany, like potatoes, and that's the reason that potatoes are most commonly used in most German meals. Similarly, cabbage sauerkraut berries, and apples are some popular ingredients in this region.
This DUTCH COOKBOOK FOR BEGINNERS covers:
- Dodd's Lebkuchen
- Dortmund-Lindenhorst Pfefferpotthast
- Dr. Oetker's Rouladen
- Dr. Oetker's Sauerbraten
- Dutch Bolomen Sprits (Chocolate And Cinnamon Flowers)
- Gefuellte Tauben (Stuffed Pigeons)
- Gefullt Krautroladen (Stuffed Cabbage Rolls)
- Gefullte Kalbsbrust (Stuffed Veal Breast)
- Gegrillte Bratwurst (Grilled Bratwurst)
- Gekochtes Schweinefleisch - Kesselfleisch
- Gewurzplatzchen (Spice Cookies)
- Gewurzte Schweinsrippchen, Braised Spicy Spareribs
And much more
Beside these snacks and entrees, you'll savor some amazing German dessert here, like the German Apfelkuchen, German Bee Sting Cake (Bienenstich Kuchen), German Raspberry Dessert, Spaghetti Ice Cream, Christmas Stollen With Almonds, and German Rum Balls (Rumkugeln). If you want to try the German vacation drink or the traditional German gl hwein, then it's about time that you make them by yourself.
Buy it NOW and let your customers get addicted to this amazing book