Traditional Dutch Cookbook: Amazing German Recipes Made Simple With Step-By-Step Recipes, From Beginners To Advanced. Discover How Simple Can Be E (Hardcover)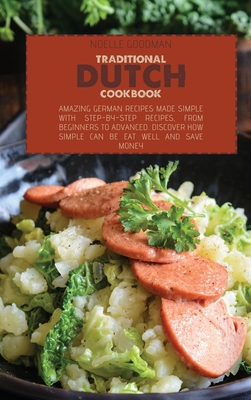 $31.97
Email or call for price.
Description
---
Do you want to know the best Germany recipes?
Your Customers Will Never Stop To Use This Amazing Cookbook
Eating the same kind of food everyday can be really boring. I have always found German food really fascinating that's why I want you to try these delicious foods.
Germans usually have their main meal during the day and then there is a light evening meal between 6 and 7 p.m. Their typical dinner or supper - Abendessen has a combination of bread, meat, sausages, cheese, pickles and mustards. The famous kasespatzle are soft egg noodles that are similar to pasta. Most German meat dishes are accompanied by stews (Garisburger Marsch) and lots of gravy (Rouladen) or sauce.
The German recipes mentioned in this TRADITIONAL DUTCH COOKBOOK are mostly traditional and easy to cook. Some of them are the simplified version of their complex ancient method. You don't need to worry about the ingredients, as most of them are quite easily available in the market or in a normal kitchen.
This book covers:
- Gingersnap Pot Roast
- Glitscher
- Gluehwein
- Goetta
- Gold Cake (Gelb Kuchen)
- Goulash Soup gulyassuppe]
- Green-Bean Salad
- Grilled Herb Schnitzel
- Jaeger Eintopf (Hunter's Stew)
- Jaegerschnitzel
- High Rise German Pancakes
- German Apple Cake
- Janet's Christmas Stollen
- Jean's Sauerkraut Hotdish
- Kaesekuchen (Cheesecake)
- Kaesetorte (Cheesetorte)
- Kaesmus - Rallenmus (Cheese Mush)
- Kaessuppe (Cheese Soup)
And much more
German culinary culture and cuisine are indeed full of wonders. There's great use of sauerkraut, cabbage, beets, and cherries. And, if you want to add all those nutri-dense ingredients to your routine diet, then give this book a thorough read, and you'll uncover all your answers right away.
Buy it NOW and let your customers get addicted to this amazing book