Russian Recipes for Beginners: The Ultimate cookbook guide on Russian cuisine, start lose weight and burn fat with amazing and tasty recipes (Hardcover)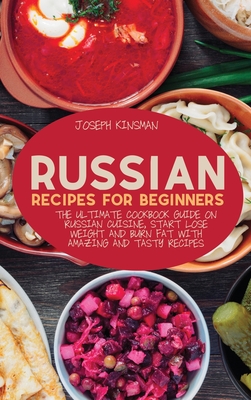 Email or call for price
Special Order. May not be available. Call the store for details.
Description
---
Do you want to understand how to cook delicious Russian Dishes?
Your Customers Will Never Stop To Use This Amazing Cookbook
Russians are also crazy about their different pickles and desserts. In order to really understand what Russian cuisine is really about, you must try some of their most popular dishes.
In this RUSSIAN COOKBOOK You will discover many great pies, soups, cakes, homemade noodles and dumplings. Also, you will learn that Russian cuisine consist in many meat, poultry and fish dishes but also in vegetarian foods. Cook soups and stews, which are widely served in Russian homes. Find ingredients in produce or frozen food sections of your local grocery stores.
Enjoy making delectable meaty Russian dishes, including beef and lamb. Meat is a mainstay in their recipes, and there are so many ways to make it great.
This cooking journal you are about to discover will help you understand Russian foods better and it will help you become an expert in preparing them. Have fun in this wonderful culinary trip you are about to take
This book covers:
- Schchi
- (Russian Sauerkraut Soup)
- Selyodka Pod Ukropnym Sousom
- Selyodka S Gorchichnoi Pripavoi
- Selyodska V Smetane
- Setsamandi (Kharcho) (Lamb, Rice & Herb Gruel)
- Shashlyk
- Shchi
- (Cabbage Soup)
- Shilaplavi (Rice Pilaf)
- (Piquant Pork With Horseradi)
- Veranecki (Pillows)
- Yutangza
- (Steamed Cilantro Buns)
- Zaphulis Tolma
- (Summer Vegetables, Stuffed)
- Zaporozhste Yogurt Chicken
- Zesty Eggplant Slices (Skhtorats)
- Zhul'yen Kurinyi V Kokotnitsakh
- Zyleone
And much more
Buy it NOW and let your customers get addicted to this amazing book