The Complete Russian Cookbook: A complete recipes cookbook with Vibrant Russian Dishes. Lose up to 5 pounds in 7 days and start regain confidence (Paperback)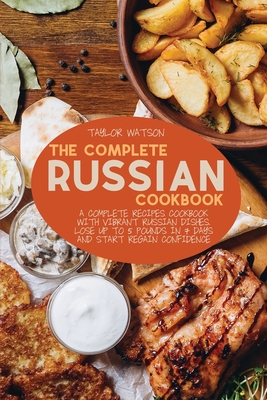 Email or call for price
Special Order. May not be available. Call the store for details.
Description
---
Do you like trying new things?
Your Customers Will Never Stop To Use This Amazing Cookbook
In THE COMPLETE RUSSIAN COOKBOOK, you'll find a place for people who love to try new things, and who are intrigued by the culture and dishes of Russia.
In this Russian recipe book, you will find many tasty dishes, from breakfast to lunch, dinner, side dishes, appetizers and desserts. With this book as your guide, you can taste the foods of Russia and learn about the popular ethnic Russian recipes you can recreate at home.
I will share with you step by step Russian recipes that will make your recreative cooking more practical, easier and tastier, too.
The most obvious feature of true Russian cuisine is probably the variety and abundance of ingredients they use. The country is home to Orthodox Christian religions, so they have recipes served when fasting times are over. The culinary palette of Russia is also quite rich in fish, meat and poultry dishes commonly served on special occasions.
Make all kinds of desserts like cherry tea cakes and Russian fudge, which will surely tempt anyone with a sweet tooth.
This book covers:
- Mamy Nugat
- (Mother's Nougat)
- Medianyky
- (Honey Cookies)
- Medivnyk
- (Traditional Honey Bread)
- Milk Soup W/ Vegetables "Molochuna W/ Morkviou Ta Kalusti
- Mixed Meat Soup - Solyanka Sbornaya Mysnaya
- Piroshki
- (Cornmeal Mush)
- Rozha Z Tsukrom
- (Rose Preserve)
- Ruby Red Borscht
- Sabzi Piez
- Samarkand Lamb
- Satsabeli Bazha
- (Poultry In Walnut Sauce)
And much more
Buy it NOW and let your customers get addicted to this amazing book