Irish Cookbook: Easy and simple instructions on How to Make Wonderful Irish Meals That Will make you happy. Lose up to 7 pounds in 7 d (Paperback)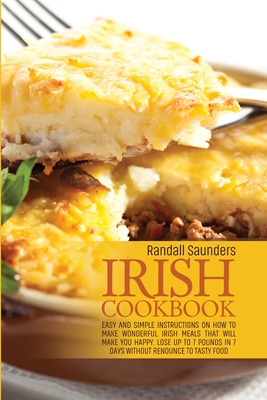 $21.97
Email or call for price
Description
---
Do you want to try Irish recipes at your home?
Your Customers Will Never Stop To Use This Amazing Cookbook
When you think about traditional Irish food, the first thing that probably comes to mind is corned beef and cabbage. Irish food has a rich history and tradition. Of course, our love for the potato is well known and very real, but with recipes such as colcannon, Irish stew, there are so many distinctively Irish dishes that make our food ideal for home-cooked meals wherever in the world you might live.
In the last decade, Ireland's restaurants have undergone an astonishing culinary renaissance. More and more chefs have returned from far-flung work and travel, bringing home novel ideas for transforming Irish ingredients while mining the depths of their own native cuisine to produce food that is both home-cooked and surprisingly sophisticated.
In this IRISH COOKBOOK you will find a simple and effective approach to cooking authentic Irish food from the comfort of your own home and perfect for celebrating special occasions such as Saint Patrick's Day with your friends and family.
Ireland loves its meat pies, and you'll find a few of these delectable recipes in this Lucky Irish Cookbook. The reason for these pies is that it was easy for miners, farmers, and other laborers to bring for lunch. Leftovers were cooked in a delicious crust and tucked in a pocket till lunchtime. This made it possible for miners, who spent hours underground in darkness, to eat.
This book covers:
- Ardshane House Irish Stew
- Baby Carrots And Onions In Cream (Irish)
- Baked Parsnips Irish Style
- Basic Irish Sausages
- Beacan Bruithe (Baked Mushrooms) Irish]
- Colonial Goose
- Country Cork Irish Stew
- Savory Red Cabbage And Red Potatoes
- Shamrock
- Shannon Cream
- Shannon Dove
- Sorrel Soup (Irish)
- Steak And Guinness Pie (Irish)
- Tom Moore's Irish Stew Casserole
- Trimlestown Roast Sirloin (Irish)
- White Onion Soup (Irish)
And much more
The Irish also love their Guinness. Many of the wonderful recipes in this book are flavored by the addition of some dark stout.
Hoist a pint and sing a happy Irish tune. Release your inner Irish with the recipes in the Irish Cookbook.
Buy it NOW and let your customers get addicted to this amazing book