Mediterranean and Asian Fish Recipes: This volume contains 2 cookbooks in 1. Improve your skills and learn new mouth-watering, quick and easy recipes, (Hardcover)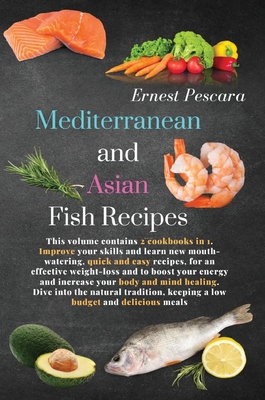 $40.99
Email or call for price
Description
---
ARRIVE FIRST AND GET THE 55% AVAILABLE DISCOUNT RIGHT NOW
HARD COVER EDITION
How many healthy and delicious recipes do you really know?
Buying this cookbook, you're going to discover a modern and fresh way to surprise your costumers.
This book takes part of a series:
1- The king salmon cookbook
2- Delicious Shrimp Recipes
3- Mediterranean Fish Recipes from the Tradition
4- French and Italian Fish Recipes
5- Italian Fish traditions Cookbook
6- Indian and Mediterranean Fish Recipes
7- Asian Basic Fish Recipes
8- Latin South American Fish Recipes
Nevertheless, this collection comes with two bundle of 2 books in 1, un unmissable piece for your shelves:
1- Salmon and Shrimps Cookbook
2- Mediterranean and Asian Fish Recipes
So why this book could be a good choice?
It is going to introduce you to a genuine, low-budget and natural way of living.
Even who doesn't know nothing about worldwide fish kitchen, adding few of these meals into his diet can quickly twist his habitudes in better and make a
notable difference.
In this book, we'll go through many simple recipes to get started with a high nutritional charge diet and to give you a quick and natural boost.
So don't waste more time Get your copy today
Click on the BUY button and embrace a new healthy lifestyle