Quick and Easy Lunch for Beginners: The Ultimate Beginner's Guide with More than 50 Pasta, Pies and Other Meal Prep. Learn How to Cook Delicious Dishe (Hardcover)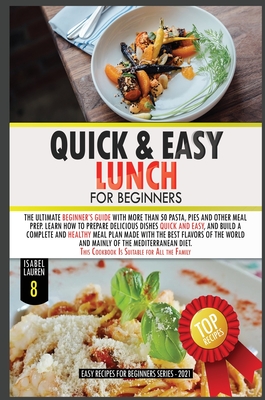 $34.97
Email or call for price
Description
---
55% OFF FOR BOOKSTORES HARDCOVER VERSION
There is nothing better than a tasty meal, to share with friends or family during lunch, and "QUICK & EASY LUNCH FOR BEGINNERS" aims to help people make great dishes through simple recipes first cookbook of the series "QUICK & EASY RECIPES FOR BEGINNERS".
Here the 5 Reasons prepare the Lunch Recipes in this cookbook.
A WAY TO UNITE FAMILY
We always spend too little time in our family due to the different commitments of each person, particularly due to our jobs that keep us away. Preparing a good meal and getting everyone at the table for lunch will help you spend quality time with your loved ones and you will be alble to talk each other and joke in front of a tasty good dish. So, why not?
SATISFY GUESTS
Pastas, Pies and the other recipes of this cookbook are great dishes to present when you have guests at home. They are very versatile and you can cook many different foods this way, and to satisfy everyone's tastes. What's better than an excellent tasty meal to share with friends during a lunch or even dinner?.
FUEL FOR THE WHOLE DAY
What's better than stopping for a good regenerative lunch break? With the recipes in this book I propose you different types of meals for different occasions. From a quick lunch in the office to a Sunday lunch with the whole family together. Each recipe offers you the right fuel for each specific situation and helps you to face the whole afternoon in the best possible way and with the right energy.
THE RIGHT NUTRIENTS YOU NEED
The recipes in this book have been carefully selected to offer you different energy values based on your daily need. In fact, you can prepare foods rich in proteins, vitamins, fibers, but also carbohydrates. Some dishes are very light, so you'll be productive all day, while others are good if you're hungry and have time to digest.
TAKE MEAL TO WORK FOR LUNCH
Many of the dishes written in this cookbook can also be prepared in the evening and then have them ready if we have to stay outside all day. Included are several recipes of quiches, rich in vegetables and vitamins. In this way you are spoiled for choice on the healthy meal to prepare and if you want you can also eat it cold, often better than freshly cooked
Your customers won't be able to resist these Quick and Easy Lunch Recipes for beginners and the others of this "QUICK & EASY RECIPES FOR BEGINNERS" series, that includes 8 Cookbooks:
EASY SOUPS RECIPES FOR BEGINNERS
EASY SALADS RECIPES FOR BEGINNERS
EASY SEAFOOD RECIPES FOR BEGINNERS
EASY VEGETARIAN RECIPES FOR BEGINNERS
QUICK & EASY DESSERTS FOR BEGINNERS
QUICK & EASY STARTERS FOR BEGINNERS
QUICK & EASY HOTPOTS AND STEW FOR BEGINNERS
QUICK & EASY LUNCH FOR BEGINNERS