Mediterranean Diet Cookbook for Beginners: 1200 Quick & Easy Mediterranean Recipes for Clean & Healthy Eating Beginners Edition with 30-Day Meal Plan (Hardcover)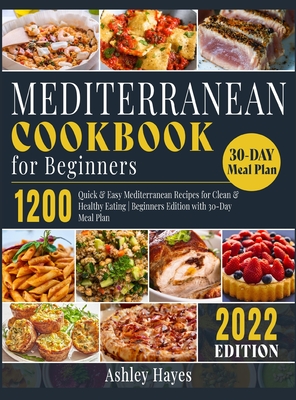 $44.99
Email or call for price
Description
---
Would you like to successfully follow a healthy lifestyle but do you still want to enjoy delicious food?Do you want to surprise your family, friends, and even yourself with new tasty recipes? Do you love the taste and simplicity of Mediterranean food?
If you think this is the right book for you, let's see how it can help you...
● You'll find 1200+ Mediterranean Diet recipes, rated # 1 as THE healthiest on the planet
When we think of losing weight, we often imagine eating bland meals for months or so-called 'rabbit food' that is boring and unappetizing. The boredom of such food is why so many dieters fail to lose weight and give up.
Luckily, there is a diet that has been around for thousands of years that are crammed with delicious ideas and will help keep you trim and increase your health.
● 1200-Different Quick & Easy Recipes with Easy-to-Follow Steps:
√ Breakfast Recipes for the Optimal Start of the Day
√ Luscious Soup and Salad Recipes
√ Complete Lunch Recipes (Include Pasta, Pizza, and Rice)
√ Energizing Snacks to Fix Quick Hunger Pangs
√ Nutritious Fish and Seafood Recipes
√ Scrumptious Chicken and Poultry Recipes
√ Lots of Meatless Dishes (Include Vegetarian and Vegan Plates)
√ Fascinating Desserts
√ ..... And so much more
● 30-Day Meal Plan for Starters - A handy 30-day meal plan that will help get you started with some easy meals that will keep you filled up for longer - With a calorie plan
S
croll up and click Add to Cart to get your copy now