The World Atlas of Whisky: New Edition (Hardcover)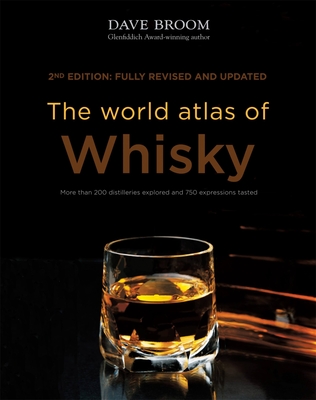 $39.99
Not in stock. Usually arrives in 2-5 Days
Description
---
How does one unravel the complexities of whisky? How does one define the flavors and aromas that create the most deliciously teasing and satisfying of drinks? This essential guide to the water of life groups whiskies by style, allowing the reader to identify new whiskies to try from around the world. So, experiment with a new taste or relax with an old favorite and prepare to immerse yourself.

The World Atlas of Whisky includes detailed maps, samples single malts from Aberfeldy to Tormore, great blends from Bushmills to Yoichi and the best of the bourbons and ryes from Barton to Wild Turkey. It offers tasting notes on over 300 selected expressions. In-depth descriptions of all the key Scottish distilleries can be found here, while Ireland, Japan, the USA, Canada and the rest of the world are given exhaustive coverage.

About the Author
---

Award-winning author and whisky expert Dave Broom has been writing about whisky for 20 years as a journalist and author. He has written eight books, two of which, Drink! and Rum, won the Glenfiddich Award for Drinks Book of the Year. He has also won the Glenfiddich Drinks Writer of the Year twice. Dave is editor of the Scotch Whisky review, editor-in-chief of Whisky Magazine: Japan, consultant editor to Whisky Magazine (UK, the USA, France, Spain) and a regular contributor to a raft of national and international titles including the Spectator, Daily Telegraph, Mixology and Imbibe (Europe). A regular broadcaster on TV and radio, he was elected the IWSC Communicator of the Year in 2013.


Praise For…
---
Splendid and authoritative.
—Susy Atkins, The Telegraph


Simply the best book ever written on whisky . . . the most helpful info any whisky fan who is not a world-class expert like Broom can get.—Larry Olmsted, Forbec.com

Makes a powerful and evocative case for geography as an organizing principle for understanding whiskey in its world.—Eric Asimov, The New York Times