Understanding The Air Fryer Cookbook For Beginners: A Step-By-Step Guide To Easy To Make, Healthy And Delicious Air Fryer Recipes (Paperback)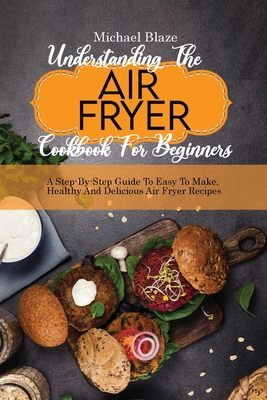 $23.97

Not in stock. Usually arrives in 2-5 Days
Description
---
*** Are you tired of you traditional oven? ***
It can be so noisy, and take up so much of your kitchen's space. Maybe you don't have room for it at all
With the popularity of paleo and ketogenic eating on the rise, many people are discovering that fried foods are unhealthy, and they're turning to air frying as a healthy substitute.
If you have been one of those people searching for the perfect air fryer, this book is just for you. Here, we'll review some of the top features you might want in an air fryer so that your search becomes much simpler.
Air frying is cooking with hot air instead of deep frying from submerging food into oil like traditional frying methods. Hence, it uses less oil than other methods and avoids adding excessive fat to your diet while still providing food items with crispy textures.
This book covers:
- Getting the Most Out of Your Air Fryer
- Vegetable Recipes
- Poultry Recipes
- Pork Recipes
- Beef Recipes
- Seafood Recipes
- Sweet Recipes
And much more
Air fried foods are also good for health. Air frying requires little oil, so most of the resulting food items are healthier than those that have been deep-fried. While there isn't a concrete evidence that air frying is healthier compared to other methods, it is still a healthy way to cook food and a good alternative when trying to cut down on saturated fats, cholesterol and trans fats from conventional cooking.
You may be asking what might be troublesome in air frying? Well, first of all, being an alternative method of cooking food means that it's not always as fast as traditional methods. However, no other cooking method can take care of your meal in such a short time span like an air fryer can do.
Buy NOW this amazing book