Low Fodmap Diet: For Beginners - Discover The Proven Soothing Recipes For Fast IBS relief, Digestive Disorders, Bloat Problems, Elimina (Paperback)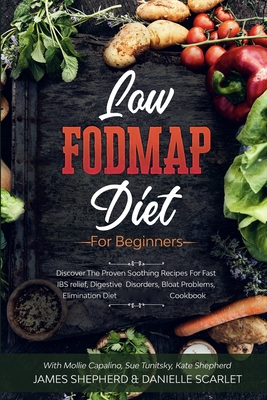 $25.99

Coming Soon - Available for Pre-Order Now
(This book cannot be returned.)
Description
---
Discover How The Low FODMAP Diet For Beginners Can Provide Fast Relief To IBS, Digestive Disorders, and Bloat Problems Today
Do you suffer from digestive troubles that disrupt your daily life? Are you aware of the symptoms of IBS and the damage that it is doing to your body?
What If I Told You There Was A Way That You Can Take Back Control of Your Condition Just By Simply Following The Low FODMAP Diet As A Way of Life?
What is a FODMAP? They are a collection of short-chain carbohydrates that is the culprit behind your inability to digest certain foods. Some more popular foods include fruits, vegetables, milk, and wheat.
In "Low FODMAP Diet For Beginners " You Will Learn...
How To Find Out Your Own Food Intolerances
Signs and Symptoms You May Have IBS
What Irritable Bowel Syndrome Really Is
Low Fodmap Diet For Vegans and Vegetarians
How To Start The Elimination Phase of This Incredible Diet
Effective Ways To Reduce Inflammation & Balance Microbiome
How To Introduce A High Fiber, Low Sugar, and Portion Control To Your Meals
A Thorough Ingredient List For You To Follow For Easy Reference
A Low Fodmap Diet Meal Plan For Breakfast, Lunch, Dinner, Drinks, And Desserts
How To Lose Weight In The Process While Decreasing Bloating
The Benefits of The Low Fodmap Diet
Amazing and Delicious Recipes To Die For In Every Meal
Steps To Get A Clearer Skin, Reduce Risks of Cancer, and Oxidative Stress
Strategies To Help You Stay Committed And Stick To Your Diet
To Identify Low Vs High Fodmap Foods
Strategies To Set You Up For Success
A Customised 14 Day Diet Meal Plan
A Thorough Low Fodmap FAQ For All Your Queries
Delicious Recipes Include:
Small Banana Pancakes
Roasted Sausage and Vegetable Breakfast Casserole
Quinoa and Turkey Meatball Soup
Bilueberry, Banana, and Peanut Butter Breakfast Smoothie
Gluten-free Bread with Deli Meat and Cheese
Chicken Noodle Soup
Gluten-free Muffins & French Toast
Gluten-free Oatmeal with cinnamon
Quinoa Bowl with low FODMAP Veggies or Grilled Chicken
And so much more...
Let's Get You To Your Goals ASAP
Pick up your copy of the book right now by clicking the BUY NOW button at the top of this page
To Your Success