Pasta Sauces Cookbook: The Most Delicious and Tasty Recipes to Cook Typical Pasta Dishes of Italian Cuisine (Hardcover)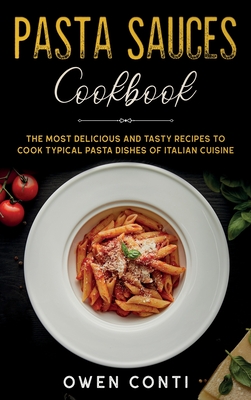 $29.95
Email or call for price
Description
---
Do you want to know how to prepare the
best Italian pasta sauces
directly in your kitchen to
impress family, friends, and even yourself
?
Italian cuisine has become popular worldwide, and one of its most famous dishes is surely pasta.
Often, however, the recipes that everyone is thought to be the cornerstones of Italian cuisine are not even known in Italy
Try asking an Italian if he has ever eaten mac and cheese, spaghetti meatballs, fettuccine Alfredo or pasta with chicken.
His answer will surely be: "No, never ".
With this book, Owen Conti, of Italian origins and executive chef for over 16 years, wants to share with all home cooks how to prepare delicious pasta sauces of the real Italian cuisine step-by-step.
In this Italian cooking guide, you will find:
What are the best ingredients to use
What to make before cooking sauces
The secret ingredient for preparing tomato sauce
How to prepare meat and fish sauces of Italian tradition step-by-step
How to prepare the sauces are most eaten by Italians step-by-step
How to make instant sauces in less than 10 minutes
How to prepare the authentic baked pasta recipes step-by-step
And much more
Even if you have always bought premade pasta sauce and have never tried to make a homemade sauce in your life, don't worry, because Owen will guide you in the simple preparation of your first delicious traditional Italian pasta dish
If you want to
amaze yourself, your family, or your guests
at dinner by immersing them in the
flavors and tradition of the real Italian pasta
, then get your copy now