Canning and Preserving for Beginners: From The Garden To The Table. 200+ Easy And Inexpensive Recipes To Preserve Food At Home. Includes Water Bath, F (Hardcover)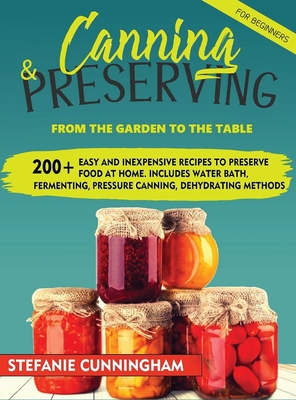 $35.90
Email or call for price
Description
---
Looking for a best way to save money, eat healthy, and learn a time tested skill set?
Learning how to preserve your own food is a great way to accomplish all of that and more
We all know that our everyday foods have their respective "life spans". While some may last a little longer than others may, some cannot last for more than a week or even for a couple of days. More often than not, we cannot consume the food within its given shelf life. Therefore, we wish we could prolong its freshness.
If you face the same problem, here is good news for you: you no longer have to worry about wasting food because you can always preserve them
Food canning and preservation is the way that will help us prolong the shelf life of our food. If you are one to those who have always been planning to do canning and preserving yet still have not started because they do not know anything about this, then it is about time that you learn the basic how-to of canning and preserving.
Don't worry. This book will be your best guide when it comes to canning and preserving.
If you are tired of microwave dinners, canned food, and unhealthy takeout's and you want to enjoy fast, delicious, money saving, and healthy meals that will make eating a worthwhile experience. Well, good news, this book will guide you through the journey of healthier eating
This book covers:
Types of Canning
Canning Process and Methods
Canning Tips for Beginners
Safety Tips
How to Choose the Right Container
Tips for the Best Fermentation
Everything You Need to Know to Freeze Your Food
Dehydrating Method and Recipes
Over 200 Recipes for Pickles, Jams, Salsas, Meats, Seafood, Soups
... And much more
Canning and Preserving foods at home is a fantastic hobby that is beneficial and fun. It can help you save money on food, capture foods when they are at their peak ripeness, and help you fill your pantry with foods that you love. Canning is entirely safe to do at home when you follow all the necessary guidelines, and it is just a fun, satisfying pastime. There is nothing quite pleasing as a cupboard full of newly canned foods
So, What Are You Waiting For?
Get this book now and start enjoying the 200+ Recipes of Canning and Preserving