A Plant-Based Diet Cookbook;Plant-Based Healthy Diet Recipes To Cook Quick & Easy Meals (Large Print / Paperback)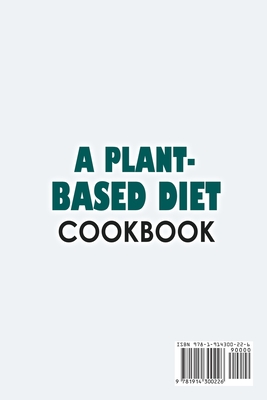 $26.00
Email or call for price
Description
---
Do you have a plan to eat more plant-based? With more people becoming interested in the benefits of a plant-based diet, there are more ways to eat healthily and now even easier than ever to do so. So one solution is eating plant-based meals.
Plant-based meals can be much better for your health than traditional meat-based meals - they may even help you lose weight.
A plant-based diet is also a good option for people who are looking for a diet that's environmentally friendly, or are interested in reducing their meat consumption.
However, there is still confusion about what plant-based meals actually are - and many think it's exclusively vegan food. Read on to find out what a plant-based meal is.
If you're thinking about adopting a plant-based diet, this book will help you explore how it can be done with little fuss or expense.
A plant-based diet can help improve health and prevent or reverse many diseases. This is also good for the environment as it reduces energy use in the food system.
For those who are dieting or need to lose weight, becoming vegetarian or even vegan may prove to be a good strategy. Studies have shown that plant-based diets tend to result in reduced body mass and increased satiety, which may lead to less calorie intake.
A plant-based diet is also easy and economical to follow. It can be tailored to meet individual tastes, needs, and circumstances. This book would guide you on a journey from being vegan to eating more plant-based. It will also share tips and tricks for practicing a plant-based diet in an easy and effective way.
A plant-based diet creates fewer environmental impacts than the average meat-based diet and can play an important role in creating a sustainable food system.
By becoming more aware of what you are eating, you can enjoy a plant-based meal that is really good for both your health and your taste buds.
There are three main stages to becoming vegan and following a plant-based diet. The first is preparing for the change, the second is adopting your new diet and lifestyle, and the third is maintaining your new diet and lifestyle.
They may be challenging at first and may require planning and discipline, but this book will give you an understanding of how to be practical while also maintaining a healthy lifestyle.
This book will also help you understand how your health and dietary needs are affected by many different factors that affect diet. Knowing your requirements will help you plan for optimal health and well-being.
It will also give you key information on what to eat, how much you should be eating, and which foods should be avoided. It will tell you how to choose the right foods. Also explains the rationale behind a plant-based diet, presents information on common misconceptions, and reviews the scientific studies on plant-based diets.
So what are you waiting for? Get your copy of this book today, to be able to jump-start your journey toward a healthier and fitter life