Food & Wine Cocktails 2015 (Paperback)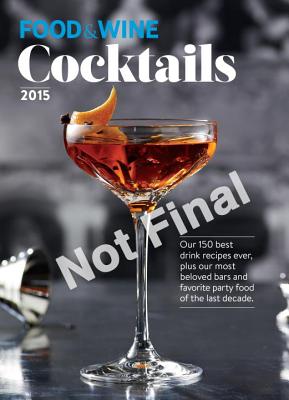 $14.95
Email or call for price
Description
---
Delicious and decadent drink recipes from one of America's leading culinary brands.
As a trend-watching, style-setting annual, FOOD & WINE COCKTAILS keeps tabs on the best new drinks at the best bars, restaurants and lounges. The 140-plus cocktails here have been created by some of the country's best mixologists. An indispensable mix of excellent cocktails and food to go with them, plus the ultimate guide to the top night spots around the country.
About the Author
---
FOOD & WINE has always gone way beyond mere eating and drinking. We're on a mission to find the most exciting places, new experiences, emerging trends and sensations beacuse we know our readers are always hungry for more than just a great meal. From travel and entertaining to luxury and design, we bring an energetic and stylish take on living and eating well--covering the many areas of our readers' lives that intersect with their love of food and wine. FOOD & WINE's insider intelligence can be found in every issue, on foodandwine.com, in our books, on the iPad and at such events as our famous FOOD & WINE Classic in Aspen. No matter what the medium, FOOD & WINE inspires the impassioned and adventurous epicure.