100 Pablo Picassos (Hardcover)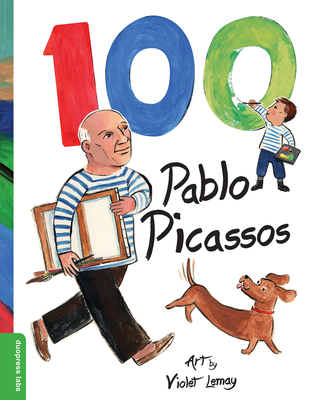 $17.54

Not in stock. Usually arrives in 2-5 Days
Description
---
Did you know that Pablo Picasso created over 50,000 works of art in his lifetime? Or that he also wrote poetry? Did you know that his simple drawing of a dove became an international symbol of peace?
Pablo Picasso is one of the most celebrated artists in the world, and this vibrant book shows his life in a remarkably original way. By featuring 100 illustrations of Pablo Picassos throughout the pages, young readers will explore the artist's life from his childhood to his major contributions to modern art, from his love for pets to his endless curiosity about life. The book also invites readers to count the Picassos all the way to 100, adding an educational element while discovering the life and work of the great Pablo Picasso.
Guided Reading Level: N3
About the Author
---
duopress labs creates innovative books and gifts for children and adults. Recent titles include the TummyTime®, Terra Babies, SmartFlash™, and High-Contrast series; The Belly Sticker Book; 100 Pablo Picassos; My Fridge; and A Good Deck.

Violet Lemay is an award‑winning author and illustrator whose children's books include 100 Pablo Picassos, My Foodie ABC, Artists and Their Pets, and the Local Baby series, which includes New York Baby and Beach Babies. Violet worked as a professor of illustration at the Savannah College of Art and Design (SCAD) in Georgia. Her illustrations have been published by Penguin, Holt, HarperCollins, McGraw-Hill, Scholastic, and Highlights magazine. Violet currently lives in Auckland, New Zealand.  
Praise For…
---
"A vivid introduction to the artist's life" —Publishers Weekly

"The brisk text and Lemay's gently humorous images hopscotch across details of Picasso's professional and personal life, showing the artist creating pieces like Les Demoiselles d'Avignon, morphing into images from his work, conversing with individuals like Gertrude Stein and Henri Matisse, playfully engaging with pets, and more." —Publishers Weekly

"100 Pablo Picassos is an utterly charming and informative tour through the life and career of Pablo Picasso. Enhanced by the wonderful art of Violet Lemay, this book cleverly introduces the work of the great 20th Century master to a new generation. Absolutely delightful!" —Anne Girard, author of Madame Picasso