8 Living Trust Forms: Legal Self-Help Guide (Paperback)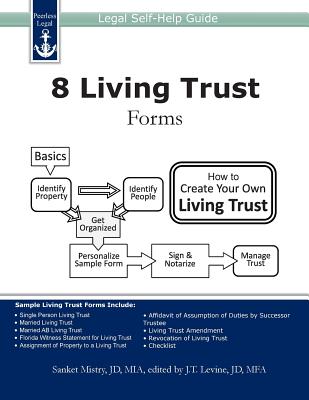 $37.44
Not in stock. Usually arrives in 2-5 Days
(This book cannot be returned.)
Description
---
Don't make creating a living trust more difficult than it needs to be. With this quick and simple guide, non-lawyers can create their own living trust with the ease a fill-in-the-blanks book can offer
Written and edited by licensed attorneys for use in all 50 States and Washington, D.C.
A living trust is a legal document that allows the property (or items) placed into the trust, to be used by you during your lifetime while still allowing that property to be transferred to another (a beneficiary) after you die. Another words, a living trust allows you to transfer the property in the trust to someone you name after you die, while you still get to enjoy the property while you are alive. A living will and a last will and testament (traditionally this is what people mean when they talk about their will) work together. A good estate plan includes both a living will and a last will and testament.
A living trust can help you in many ways to meet your estate planning needs. A living trust can help to:
reduce taxes,
avoid probate,
keep property distributions private,
and much more.
Rest assured, everything you need to achieve a solid living trust is in this book. There is even an easy to understand guide in the beginning to help you understand some of the basics of what is a living trust, the benefits of creating a living trust, and fill-in-the-blank living trust forms. This book is all you need to create the living trust your needs require.
˃˃˃ THE EASIEST WAY TO CREATE YOUR OWN LIVING TRUSTScroll up and grab your copy today.