MY FATHER WHEN YOUNG: Photographs by Jerry Tisserand (Hardcover)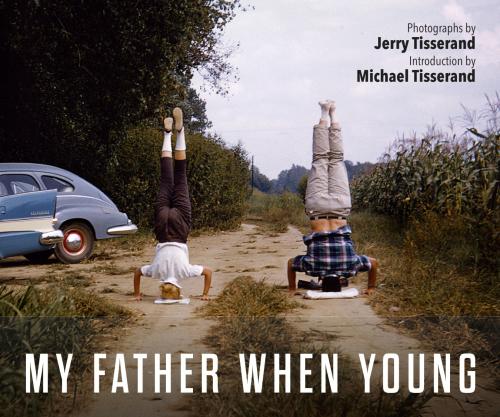 $25.00
Coming Soon - Available for Pre-Order Now
Description
---
In 1955, an Army sergeant named Jerry Tisserand visited the PX on his base in Orleans, France, and purchased a German Bilora Bella camera. He wanted to take photos "that no one else has taken," he wrote to his family, and that artistic pursuit carried him across Europe, back home to Indiana and Kentucky, then to New Orleans' Mardi Gras. He captured unique and vibrant scenes of everyday life, whether on ancient cobblestone walkways or hidden dirt roads, and created indelible images of classic cars, young love, and brilliant revelers.

Then, following that last trip to Mardi Gras, he put down his camera and boxed up his slides, and his work remained unseen for the next sixty years.

In 2020, his son, award-winning author Michael Tisserand, was keeping close to home due to COVID and began pulling out dusty boxes of forgotten family mementos. He found two grey steel cases, each containing tidy rows of Kodachrome slides. He pulled a few at random and held them, one at a time, to the light.

At first, he didn't understand what he was seeing. Then he realized the photos had been taken by someone he never knew—his father when young.

Today, Jerry Tisserand's remarkable work adds a brief but vivid chapter to the history of American street photography, introducing an artist who documented "sights seen, strangers encountered, friends loved, passions felt," as Michael Tisserand writes in his intimate introduction to My Father When Young.

For fans of both photography and Southern culture, My Father When Young is also a book for anyone who has pondered the question: What did my parents' lives look like before I was born?

About the Author
---
Michael Tisserand is a New Orleans-based author whose most recent book is Krazy: George Herriman, a Life in Black and White, the Eisner Award-winning biography of cartoonist George Herriman, creator of the comic strip "Krazy Kat." Tisserand's other books include the ASCAP-Deems Taylor-winning The Kingdom of Zydeco and the Hurricane Katrina memoir Sugarcane Academy: How a New Orleans Teacher and His Storm-Struck Students Created a School to Remember. Tisserand's work has also appeared in The New York Times, the Oxford American, the Nation, Daily Beast and Lit Hub. In May 2021, he will publish My Father When Young, a collection of 1950s-era photography by his father, Jerry Tisserand.