Mediterranean Diet Low Sodium Cookbook: Fast and Easy Low Sodium Recipes to Make Healthy Eating Delicious Every Day (Paperback)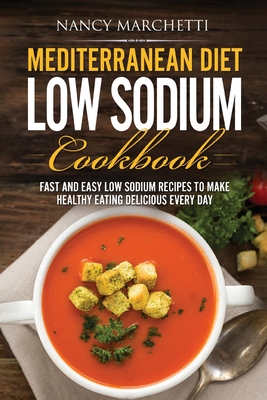 $23.95
Email or call for price.
Description
---
Discover How To Improve Your Cardiac Health, Reduce Water Retention and Boost Overall Health and Well-Being Using Low-Sodium, High-Flavor Recipes Without Sacrificing Taste
Do you suffer from heart complications, high blood pressure, edema, kidney or liver disease, and have been advised to adopt a low-sodium diet? Has your food lost all flavor since you cut out salt and sodium from your diet? Does eating now feel like a chore, something you do to survive, instead of an activity you enjoy?
If your answer is yes to any of these questions, then you come to the right place.
Your Customers will Find this Cookbook very Useful and will Continue to use it
In this special cookbook, you're going to learn how to combine the health, richness, and flavor of the Mediterranean with low-sodium recipes and meal plans that make changing your diet as easy and pain-free as possible, as well as handy advice for effectively managing your salt intake.
The Mediterranean Diet Low Sodium Cookbook will keep your taste-buds and your heart happy with:
● Low-sodium diet advice: You'll get a handle on how to effectively use a low-sodium diet like this one to effectively manage and even curb kidney diseases, heart problems, edema, hypertension, and more
● Loads of mind-blowing recipes: No matter your taste, there is something in the pages of this cookbook that is certain to tickle your food fancies without losing any of the flavors you love
● Step-by-step cooking instructions: Never wonder if you're doing the right things in the kitchen with detailed preparation instructions designed to get you from zero to a finished meal in minutes
● Nutritional info and health guidance: Keep track of your nutrient intake including sodium and get proven health advice for dealing with a variety of health conditions using a low-sodium diet
● ...and more
Loaded with tons of mouthwatering recipes, the recipes in this cookbook are specially designed in a way to ensure that you'd never guess that they're low in salt and also gets rid of the monotony and boredom of regular low-sodium diets and allows you to maintain a variety-rich, exciting, and diverse diet.
Buy it NOW Your Customers will be Satisfied to use this Amazing Cookbook