Mediterranean Diet Pasta and Grains Cookbook: Easy and Mouthwatering Pasta and Grains Recipes, Your Decisive Choice for Eating and Living Well (Paperback)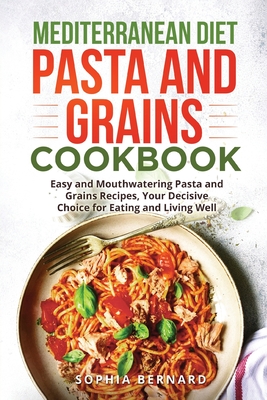 $24.95
Email or call for price
Description
---
Master the Art of Making Healthy, Ridiculously Mouthwatering Pasta and Tasty Grain Bowls the Mediterranean Way Without Harming Your Waistline
Are you tired of wondering what to have for dinner for the thousandth time? Are you a huge fan of pasta and grain, but have run of varieties to try? Sick of the good ol' spaghetti and meatballs and are looking for something more exciting?
Do you want to learn how to make and enjoy the best grain-based meals that will wow your family and friends?
If any of the above questions sound like what you need help with, then this cookbook is for you
Your Customers will Find this Cookbook very Useful and will Continue to use it
In this special cookbook, you're going to be shown a reimagined way of cooking with pasta and grain with scrumptious recipes that range from crunchy and crispy to pillowy soft. You'll learn how to use easily obtainable, but affordable and high-quality ingredients to create delicious homemade pasta you'd be proud to serve.
Here's a snippet of what you're going to discover in the Mediterranean Diet Pasta and Grains Cookbook
● A crash guide to pasta and grains: Pasta and grains have been unfairly demonized by the health and nutrition industry. But it doesn't have to be that way if you prepare them using proven Mediterranean recipes and techniques
● Loads of delectable recipes: Never wonder what to have for dinner ever again with tons of tasty recipes that are certain to make you go for second helpings
● Dead-simple cooking instructions: Preparing Mediterranean feasts of pasta and grain doesn't have to be complicated. You'll find step-by-step instructions that will take you from zero to dinner in minutes
● Detailed nutritional profile: Each recipe comes with full nutritional and calorie information to help you stay on top of your micro and macronutrients as well as monitor your calorie intake easily
● ...and more
Whether you're a home cook or a professional chef, this special cookbook is packed with tons of useful information and even more flavorful recipes that will take your pasta-slinging and grain-wrangling skills to the next level
Buy it NOW Your Customers will be Satisfied to use this Amazing Cookbook