Portuguese Cooking ***Color Edition***: Easy Classic Recipes from Portugal (Paperback)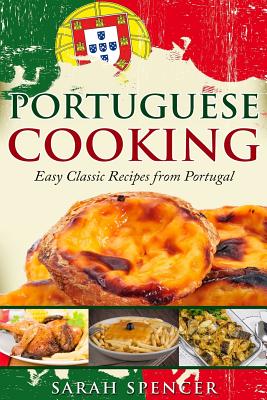 $31.24
Not in stock. Usually arrives in 2-5 Days
(This book cannot be returned.)
Description
---
Bring the rich flavors of Portugal in your kitchen Prepare a memorable Portuguese feast for your family and friends. Choose your favorite from the fifty classic recipes in this Portuguese Cooking Cookbook.
***COLOR EDITION***
Portugal's rich and vibrant culture is undeniably felt in its cuisine. Portuguese dishes are never shy. Each dish proudly presents itself with fresh, robust, and surprising flavors. There is something both comforting and celebratory about Portuguese dishes. Hearty soups and stews warm and nourish. With olive oil, one must be extravagant; with meat, nothing is to be put to waste. Desserts are divine, their flavors and preparation seeming to resound with good times and happy memories. Traditional recipes have mostly been passed down by mothers to daughters, with no measurements. The Portuguese are innovative and creative people, and their recipes and methods vary from family to family and from region to region. What one family may consider authentic may seem foreign to another. With that in mind, the recipes in this cookbook do not claim to be authentic. They are here to give you at least a glimpse of Portugal's gastronomy, to let you taste the flavors dear to its people and to feel its rustic charms. In following the recipes, it is hoped that you will experience the passion and simplicity of Portuguese cooking. Something as simple as using real Portuguese olive oil, sea salt, coarse-ground pepper and only the freshest ingredients will help you understand why Portuguese food is considered some of the best in the world.
Inside, you'll find:
Some key ingredients for Portuguese cooking.
Methods of cooking Portuguese meals.
Commonly used equipment for Portuguese cooking.
Easy to prepare appetizers and snacks such as the Clams in Lemon & Garlic and the Stone-Baked Bread
Traditional salads such as the Portuguese Potato Salad and the Bacalhau Salad
Heartwarming soups like the Portuguese Green Soup and the Kale Soup
Favorite poultry recipes like the Garlic Chicken, the famous Piri Piri Chicken, and the Eggs with Peas & Lingui a
Bountiful pork, beef and lamb recipes such as the Hearty Meat Sandwich Francesinha, the Portuguese Cordizo, the Portuguese House Steak, and the Portuguese Roast Lamb
Delightful seafood recipes like the Saut ed Cod and the Charcoal-Grilled Squid
Delicious side recipes such as the Tomato Rice and the Portuguese Corn Bread
Luscious dessert recipes such as the Golden Slice and the world famous Pasteis de Nata
Let's start cooking healthy meals Scroll back up and order your copy today