Idiot: Life Stories from the Creator of Help Helen Smash (Paperback)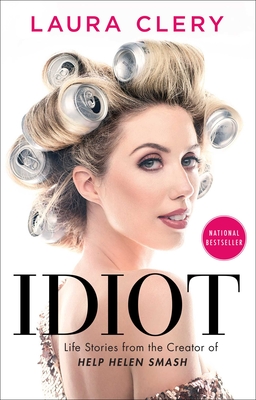 $16.99

Not in stock. Usually arrives in 2-5 Days
Description
---
From nationally bestselling author, YouTube star, and Facebook Video sensation Laura Clery comes a collection of comedic essays that paint "an honest, complicated portrait of how your life can change" (SheKnows).

Laura Clery makes a living by sharing inappropriate comedy sketches with millions of strangers on the internet. She writes songs about her anatomy, talks trash about her one-eyed rescue pug, and sexually harasses her husband, Stephen. And it pays the bills!

Now, in her first-ever book, Laura recounts how she went from being a dangerously impulsive, broke, unemployable, suicidal, cocaine-addicted narcissist, crippled by fear and hopping from one toxic romance to the next…to a more-happy-than-not, somewhat rational, meditating, vegan yogi with good credit, a great marriage, a fantastic career, and four unfortunate-looking rescue animals. Still, above all, Laura remains an amazingly talented, adorable, and vulnerable, self-described…Idiot.

With her signature brand of offbeat, no-holds-barred humor, Idiot introduces you to a wildly original—and undeniably relatable—new voice.
About the Author
---
Laura Clery is an actress, influencer, and comedian best known for posting comedy sketches and vlogs about her day-to-day life on Facebook, TikTok, Instagram, and YouTube, where she has a combined twenty-two million followers and upwards of ten billion views. She is the author of Idiot and Idiots. Clery lives in Los Angeles with her husband, son, and daughter.