The Modern Tiffin: On-the-Go Vegan Dishes with a Global Flair (Hardcover)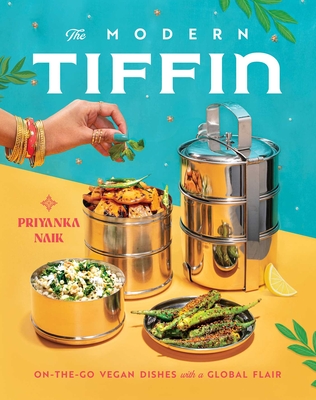 $24.99

Coming Soon - Available for Pre-Order Now
Description
---
Champion the diversity and versatility of vegan cooking with these delicious, unique recipes sure to break the mold.

For as long as veganism has been in the mainstream media, there have been many misconceptions about vegan cooking—that it's not portable, diverse, versatile, or tasty. But that's simply not the case. With such appealing and intriguing recipes, Chef Priyanka upends some of the long-held vegan assumptions with The Modern Tiffin.

This book goes far beyond expectations of the standard Western meal: meat, potatoes, and vegetables. Vegetables can indeed be the star of the dish, rather than merely a forgotten side dish. Including an array of fifty-five vegan recipes, such as the Italian Tiffin, which uses chickpeas and garam masala to create a new bruschetta, or the American Comfort Tiffin, which includes a Southern riff on a traditional Indian dessert Gulab Jamun, The Modern Tiffin shares this versatility through delicious vegetable-focused recipes tying back to Priyanka's childhood, travels to nearly forty countries, and life as a first-generation, Indian-American in New York City.
About the Author
---
Priyanka Naik is a self-taught Indian vegan cook, Food Network champion, Quibi Dishmantled Winner, and Today show featured chef. She is a food and TV personality, who hosts Dish it Healthy with Priyanka Naik a Tastemade original clean-eating food show on Food Network Kitchen. An avid traveler who's been to nearly forty countries, her globally inspired original recipes, with a focus on sustainability, have been featured on her blog Chef Priyanka, IGTV—hosting her own digital series "Cook With Chef Pri at 3," and are incorporated into her regular speaking appearances. She has garnered attention from and been featured on the Today show, CNN, Forbes, GQ, The Beet, Well + Good, Medium, and more. She has partnered with several brands, including Coca-Cola, Amazon, and Uniqlo for brand campaigns. Priyanka is first-generation, Indian American, raised on Staten Island, New York, and has two elder sisters. Her Indian heritage is very important to her cooking style and lifestyle, so much so that she even learned her native language of Kannada before English and weaves in Indian elements throughout all of her original vegan cooking. She attributes her devotion to her Indian roots and passion for Indian food to her loving and supportive parents.
Praise For…
---
"Priyanka is a passionate chef who does a phenomenal job of bringing her heritage and global experiences together and turning them into unique, yet approachable meals. Her dishes are rooted in being thoughtful, health-conscious, and nourishing. She does more than fusion food, it's food with a story that'll leave you feeling good."—Hetal Vasavada, MasterChef Season 6 Finalist and Author of Milk & Cardamom.

"I met Priyanka when she was just starting to build her career in the food world. I was immediately impressed with her passion for sharing meals with others, her enthusiasm for celebrating foods from various cultures around the globe, and her commitment to sustainability. Having tasted some of Priyanka's food, I know she is capable of sharing delicious, healthy, and easy-to-make recipes with the world."—Bryant Terry, James Beard Award-Winning Chef and Author of Vegetable Kingdom and Black Food.

"I absolutely love how Priyanka represents the South Asian culture through her recipes. She creates vibrant,exciting, plant-based dishes inspired by flavors from all over the globe. Having made many of her recipes I have no doubt your belly will be thankful to you for buying this book!"—Radhi Devlukia-Shetty