Blake the Drake and the Enchanting Egg (Hardcover)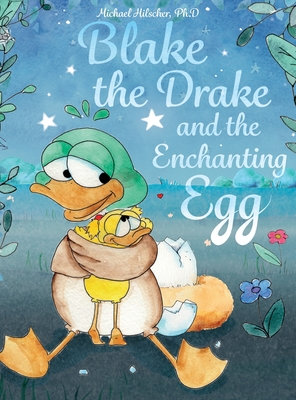 $26.85

Not in stock. Usually arrives in 2-5 Days
(This book cannot be returned.)
Description
---
A heart-warming story about dreams coming true if you never give up
Blake the Drake's biggest wish is to be a loving Papa duck. But as a male duck, he can't lay any eggs. Blake doesn't give up, believing with all his heart that one day, he'll have the chance to love and raise his very own baby duck. When Darcy Duck offers him one of her eggs to hatch, he seems to be one step closer to his dream. But it's not until another friend from the duck pond offers him her selfless support that Blake's dream can finally come true. And one day, a truly magical miracle happens at the pond.
Blake the Drake and the author:
The idea for this book was inspired by true events, namely my own personal story about fulfilling my greatest wish of becoming a father.
For as long as I can remember, I have wanted to have children. I couldn't imagine not starting a family of my own. But there's one small stumbling block. I'm gay. After giving it much thought and consideration and dredging my way through some deep moments of despair, I found a solution that felt right. An egg donor and a surrogate mother overseas both stepped up to help me fulfil my heart's desire. In 2015, I held my beautiful Mia for the first time in my arms
When Mia was old enough to ask about the circumstances surrounding her birth, I used the metaphor of a magical egg that someone else had hatched to explain how she arrived on our planet. This was my way of sharing her story in a child-friendly, truthful, and plausible manner. And that's how the story of Blake the Drake came about. This book is close to my heart. I hope to offer encouragement to others in a similar situation and to show people that you can achieve anything once you set your mind to it. But above all, this book is for every child who has come into the world in this way, who is living in a "new" family structure. I hope to show them-through a loving and captivating story-how much they are wanted and loved.
Michael Hilscher, Ph.D