Invictor y Mayo en busca de la esmeralda perdida / Invictor and Mayo in Search o f the Lost Emerald (Paperback)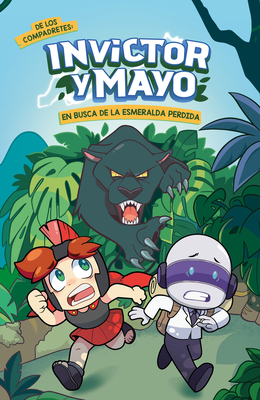 $12.95

Not in stock. Usually arrives in 2-5 Days
Description
---
La aventura más épica del grupo de Los Compas, ¡con Mayo e Invictor como protagonistas!

Algo terrible ha sucedido en el pueblo de Invictor y Mayo: la mitad de la esmeralda sagrada fue robada del laboratorio Force Atomic Company por el profesor Malus Malunfus, un malvado científico. La humanidad corre un gran peligro: si las dos mitades se unen, convertirán a Malunfus en el hombre más fuerte sobre la tierra y esto supondría el fin del planeta.

Por suerte, nuestros compas no lo van a permitir. Invictor el mamadísimo y Mayo, la tostadora deberán evitar que el ladrón cumpla con su deseo de destrucción y para ello emprenderán un increíble viaje hacia los confines del mundo.

¿PODRÁN LOS AVENTUREROS SALIR TRIUNFANTES EN MEDIO DE MONSTRUOS, TRAMPAS Y ENCANTAMIENTOS? ¡Acompáñalos a descubrirlo!

LA HISTORIA MÁS ÉPICA DE INVICTOR Y MAYO, DE LOS COMPAS

ENGLISH DESCRIPTION

The Super Buddies' most epic adventure, with Mayo and Invictor as protagonists!

Something terrible has happened in the town where Invictor and Mayolive: half of the sacred emerald was stolen from the Force Atomic Company laboratory by Professor Malus Malunfus, an evil scientist.
Humanity is in great danger: if the two halves were to come together, they would make Malunfus the strongest man on earth and this would mean the end of the planet.

Luckily, our super buddies won't allow that to happen. Invictor and Mayo must prevent the thief from fulfilling his desire for destruction and to do so, they must take up an incredible journey to the ends of theworld.

Will the adventurers be able to successfully get out alive from the midst of monsters, traps, and enchantments? Join them to find out!

THE MOST EPIC STORY OF INVICTOR AND MAYO, THE SUPER BUDDIES!