El imperio de los otros datos: Tres años de falsedades y engaños desde Palacio / The Empire of the Other Data (Paperback)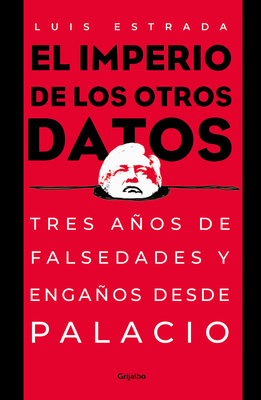 $17.95

Not in stock. Usually arrives in 2-5 Days
Description
---
Falsedades, inexactitudes y mentiras dichas por el presidente de la república…

"Las conferencias matutinas de Andrés Manuel López Obrador se convirtieron en el imperio de los "los otros datos". El mandatario prometió que las mañaneras serían una herramienta de transparencia, pero desde el día uno de su gobierno devinieron en instrumentos de propaganda y desinformación.Luis Estrada, director del centro de análisis Spin, ha llevado la cuenta -día a día y palabra a palabra- de las imposturas del presidente en la primera mitad de su gestión, de los enemigos que ha fabricado y de las guerras que ha alimentado con sus palabras.En este libro enumera y analiza, así, las obsesiones de López Obrador, sus terrores, sus fantasmas, la ligereza con la que habla, el frio de sus acusaciones y los engaños que ha elegido difundir. "

ENGLISH DESCRIPTION

The untruths, inaccuracies, and lies that the Mexican President has said...

Andrés Manuel López Obrador's morning speecheshave become the empire of "the other data". The President promised that his mañaneras would serve as a tool for transparency, but since day one of his term, they became a tool for propaganda and misinformation. Luis Estrada, CEO of the analytics center Spin, has kept score, day by day, word by word, of the President's deceptions during the first half of his administration, of the enemies he has fabricated, and the battles he has ignited with his words. In this book, Estrada lists and examines López Obrador's obsessions, his fears, his ghosts, the flippancyof his words, his cold accusations, and every delusion he has chosen to promote.
About the Author
---
General de SPIN-Taller de Comunicación Política. Es Analista Político para Grupo Fórmula, lo ha sido también para Milenio Televisión y ADN Político. Fue Director General de Comunicación Social en la Secretaría de Gobernación (2009-2010), Asesor Político del Secretario de Gobernación (2009) y Director General Adjunto para la Reforma del Estado (2008-2009) en esa misma dependencia. Se desempeñó como Director de Evaluación de Riesgo Político en la Dirección General de Análisis Político de la Presidencia de la República (2007-2008). En otros ámbitos, fue Consultor Senior en la Central de Estrategias Políticas (CEPOL), Consultor Político en Investment Placement Group Casa de Bolsa, Subdirector de Proyectos Especiales en Presidencia de la República (1998-2000), Jefe de Investigación en Rexer-Ward Howell International  y Supervisor de Proyectos en Consultores en Investigación y Comunicación (CINCO).  Es Profesor en el Instituto Tecnológico Autónomo de México (ITAM). Se ha desempeñado también como Profesor-Investigador en el Instituto de Ciencias de Gobierno y Desarrollo Estratégico de la Benemérita Universidad Autónoma de Puebla,  Profesor en el Centro de Investigación y Docencia Económicas (CIDE), la Universidad del Valle de México (UVM), la Universidad Nacional Autónoma de México (UNAM), en el Centro de Estudios Tecnológicos y Superiores (CETYS), la Universidad Iberoamericana, el Instituto Tecnológico de Estudios Superiores de Monterrey (ITESM) y la Universidad de California,San Diego (UCSD).Doctorado en Ciencia Política, Maestría en Ciencia Política, Universidad de California, San Diego. Licenciatura en Ciencia Política, Instituto Tecnológico Autónomo de México (ITAM).