Las botas del general: Un cuento para la paz (Hardcover)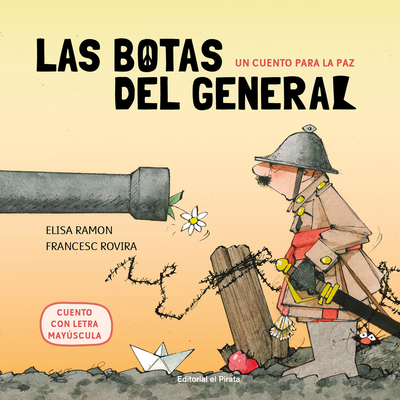 $15.99

Not in stock. Usually arrives in 2-5 Days
Description
---
Un cuento por la paz - Las botas del general es un libro infantil recomendado de 4 a 7 años maravillosamente ilustrado.

Un general necesita unas botas para ir a la guerra, así que decide hacérselas a medida. Para el general la guerra era la guerra: tenía que aniquilar todo lo que se encontraba en su camino. Pero lo que no sospechaba es que ni sus soldados ni sus botas opinaban igual. A ellos, la guerra no les gustaba; de hecho, el general no les gustaba; ni el olor a pólvora, ni el silbido de las balas, ni… Entonces, ¿qué hacían ahí?

Cuando el general grita: "Al ataque", y se dispone a dar el primer paso, las botas se niegan a obedecerle, los soldados se marchan corriendo y el general se queda solo ante el enemigo y sin entender qué está pasando.

Las botas empiezan a correr para huir de la guerra, llevándose al general lejos de la destrucción. Y es que nunca es tarde para celebrar la vida, ¿no te parece?
Es un álbum ilustrado de Elisa Ramón, magníficamente dibujado por Francesc Rovira, dos de los profesionales con más trayectoria del panorama infantil. Recrea magníficamente que, ante cualquier disyuntiva, siempre se tiene la opción de elegir lo que uno cree que es mejor, sin llevarse por la corriente.

A general needs boots to go to war, so he decides to have them custom made. For the general, war was war: he had to annihilate everything that was in his way. But what he did not suspect is that neither his soldiers nor his boots felt the same way. They did not like war; in fact, they didn't like the general; not the smell of gunpowder, not the whistle of bullets… So what were they doing there?
About the Author
---
Elisa Ramon is the author of nearly fifty children's books, many of which have been translated into various languages such as French, Danish, Italian, Chinese, and German. Francesc Rovira studied at the School of Arts and Crafts in the Catalan capital. He has illustrated hundreds of stories for numerous publishers.