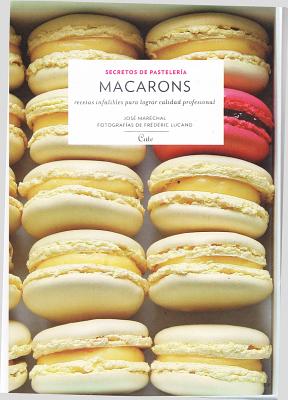 $27.95
Email or call for price
Description
---
A clear and instructional book to dominate the art of Parisian macaroons! Macarons will teach you the tricks and secrets to making these delicious treats so they always come out perfect. The book is structured in a way that includes the ingredients necessary as well as their characteristics and how to correctly process them. It will explain the basic techniques with critical points while presenting delicious recipes as well as variations. Thus, Macarons is the best class for anyone who wants to learn how to cook from scratch as well as improving on their techniques.

El libro más claro y didáctico para dominar el arte de los macarons parisinos!  Macarons enseña los trucos y secretos para lograr que estas delicadas golosinas de merengue y almendras, tan de moda ahora, salgan perfectas ¡siempre! La estructura del libro aborda los ingredientes, sus características y modos de procesamiento. Continúa explicando las técnicas básicas con sus puntos críticos (la confección del merengue, el secado, el trabajo con manga) y presenta deliciosas recetas y variaciones. De este modo, Macarons se vuelve la mejor clase magistral para quien quiera aprender a cocinar macarons desde cero o perfeccionar su técnica.
About the Author
---
José Marechal is a French pastry chef and the owner of Parisian candy store, Café Noir. He is the author of more than thirty pastry books in French.