Wood Pellet Smoker Grill Recipes: The Step by Step Cookbook to Surprise Family and Friends by Cooking Delicious, Quick, and Various BBQ Recipes (Paperback)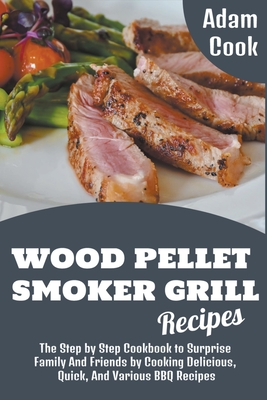 $23.87

Backordered
(This book cannot be returned.)
Description
---
This cookbook is the fourth book in the "Adam Cook Wood Pellet Smoker Grill Cookbooks" series.
Have you heard about wood pellet smoker and grill, and do you want to know more about it?
When it comes to having healthy food and cooking, one often thinks about how to have the best through a vast range of available choices. With the many products to choose from, there is often confusion about what, where, and how to cook particular food. One of the best solutions is undoubtedly a wood pellet smoker. This is nothing but a smoker and grill for your food and meat that uses small pieces of wood to make and maintain the temperature. There are many reasons to use a wood pellet smoker, and it generally comes with more benefits than conventional smokers. For example, with the wood pellets smoker, you can produce flavorful food without messing up your hands. It is a smoker that generally features hands-free operations. It will require the use of a fire starter such as lighter or matches to ignite the pellets. Each cookbook includes 50 recipes, easy to prepare. In this particular cookbook you will find:
1. Juicy Lime smoked Tuna Belly
2. Lemon Butter smoked Mackerel with Juniper Berries Brine
3. Smoked Crab Paprika Garlic with Lemon Butter Flavor
4. Cayenne Garlic Smoked Shrimp
5. Cinnamon Ginger juicy smoked Crab
6. Cajun Style Grilled Corn
7. Grilled Cherry Tomato Skewers
8. Roasted Vegetable Medley
9. Grilled Corn with Honey Butter
10. Smoked Mushrooms
11. Smoked and Smashed New Potatoes
12. Smoked Brussels Sprouts
13. Smokey Roasted Cauliflower
14. Crispy Maple Bacon Brussels Sprouts
15. Sweet Jalape o Cornbread
16. Broccoli with Lemon and Pepper
17. Roasted Cauliflower
18. Roasted Asparagus
19. Grilled Mixed Veggies
20. Grilled Corn
21. Thyme - Rosemary Mash Potatoes
22. Grilled Broccoli
23. The Best Potato Roast
24. Leek and Cheddar Cheese Sauce
25. Chocolate-Hazelnut and Strawberry Grilled Dessert Pizza
26. Grilled Pound Cake with Fresh Mint and Berries
27. Sweet-Spicy Duck Breast
28. Classic Smoked Duck Breast
29. BBQ Duck Breast
30. Fresh Peach Crisp
31. Mustard Creamy Cheese Sauce
32. Grilled Pineapple Sundaes
33. Grilled Steak with American cheese Sandwich
34. Blueberry Cobbler
35. Rack of Lamb
36. Mouthwatering Lamb Chops
37. Spicy Lamb Sausage with Honey Mustard
38. Smoked Lamb Shoulder Chops
39. Cornish Game Hen
40. Baba Ghanoush
41. Smoked Peach Parfait
42. Fancy Bologna
43. Baked Peach Cobbler
44. Chocolate Pudding
45. Egg and Ham "Muffins"
46. Scrambled Turkey Eggs
47. Baked Carrot Chips
48. Cauliflower with Bacon Wrap
49. Pistachio and Brussels
50. Crispy Kale
Buy it NOW and let your customers become addicted to this incredible book